Asamoah Gyan unused in Ghana's friendly draw in China
Last updated on .From the section Football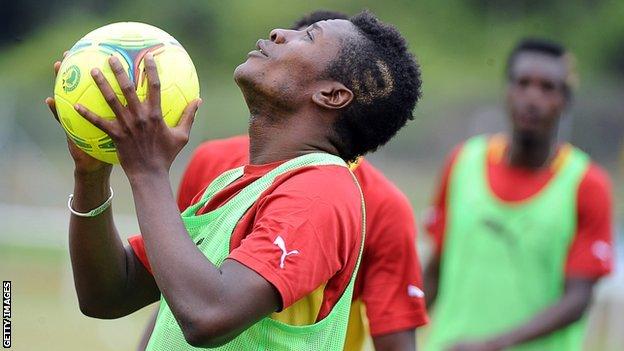 Asamoah Gyan was an unused substitute in Ghana's 1-1 friendly draw with China on Wednesday in his first inclusion in the Black Stars squad for six months.
The 26-year-old striker had returned from a self-imposed six-month exile but was the only one of six players to remain on the Ghanaian bench in Xi'an.
Lin Gao's 57th-minute penalty put China ahead but Richmond Boakye-Yiadom headed Ghana's equaliser from a corner.
Substitute keeper Ernest Sowah then saved a penalty to deny China a winner.
Gyan had been called up into coach Kwesi Appiah's 18-man squad after making himself available again after taking a break from internationals following the Africa Cup of Nations in February.
Before Wednesday's match, Gyan told BBC Sport he had overcome the 'psychological reasons' for his absence, saying: "Everything is all right now and I'm happy to be back.
"I do not feel pressure. I'm ready to play in front of the crowd."
It was the reaction of fans that contributed to Gyan's decision to walk away from the Black Stars earlier this year.
Many Ghanaian supporters were critical of the him after he missed penalties in the 2010 World Cup and the 2012 Africa Cup of Nations.
Gyan, who plays for United Arab Emirates side Al Ain, insists he is now more able to deal with the highs and lows.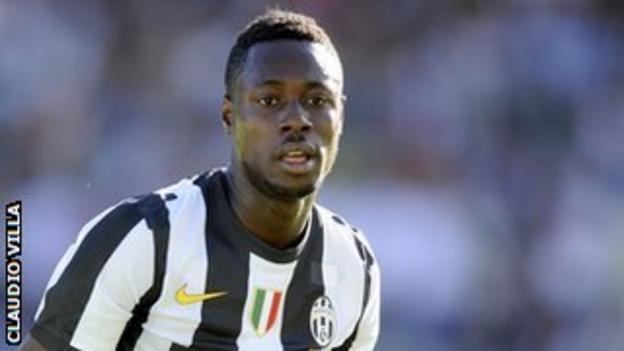 "There are ups and downs in football and if you can go through all these things you are ready to play in front of the crowd, in front of everybody," he said.
"I didn't watch the games that Ghana played in my absence, but I did hear the news and of course I'm a Ghanaian and any time Ghana plays I follow their results.
"I am happy to be back with the team because I am a Ghanaian and I am here to help the nation.
"Football is about teamwork and I work for the team. I have played for the Black Stars since 2003 and I have always done my best for the team."
But while Wednesday's friendly match in China seemed to be the perfect environment for Gyan, offering him the chance of a low-key return, the forward played no part in the game.
It remains to be seen whether he will be involved in a much bigger test for Ghana that is looming on the horizon - on 8 September they host Malawi in the first leg of their final round qualifier for next year's Nations Cup.
"It is one of the most important games we have this year," Gyan said on Tuesday. "People are expecting us to win and we want to give the Ghanaian people what they want."
"We play the first leg at the Accra Sports Stadium and we need to make sure we score goals in that game.
"We will see what will happen in Malawi in the return leg. Malawi are a very good team but I believe in the Black stars. Every time I play for them I feel comfortable with them and we can beat any team."