Alan McCormack urges Swindon to move on from captaincy row
Last updated on .From the section Football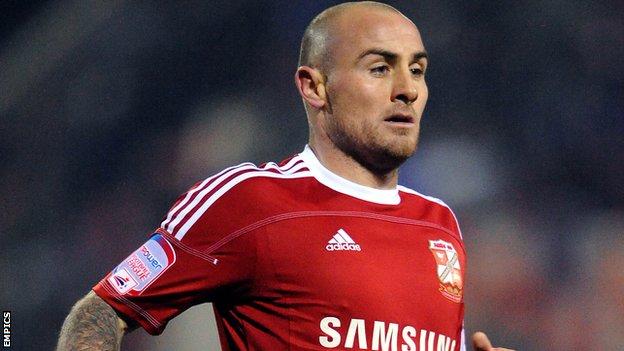 New Swindon Town captain Alan McCormack has said the squad must move on from the row involving Paul Caddis's removal as skipper.
Manager Paolo Di Canio confirmed on Monday that he had given the armband to McCormack because of the "attitude" Caddis had shown during pre-season.
The right-back was also left out of Town's 3-0 victory over Brighton in the League Cup on Tuesday.
"We've got to move forward," McCormack told BBC Wiltshire.
"The gaffer and Caddis have had their words. I've got my own opinion on it, as do all the lads.
"Caddis will come back a stronger man.
"We need 11 leaders on the pitch. One man has the armband but it doesn't mean it's the be-all and end-all."
When Di Canio first arrived at the County Ground in May 2011, he gave the captaincy to midfielder Oliver Risser and made Caddis vice-captain.
But he promoted the Scotsman three months later, after Risser failed to make an impression on the first team.
His decision to change the role for second time was met with confusion from Swindon fans, as Caddis had played a significant part in helping Town lift the League Two title last season.
And McCormack admits he is unsure if his new role is permanent: "You never know with the gaffer.
"I won't assume I'm going to walk in to the team every week. I need to be the best I can be and lead the best I can.
"Hopefully then he won't take it off me. He's taken it off people twice already so he's not afraid to do it.
"I'll continue to play as best as I can and when I do I feel like I'm a good leader. Hopefully that will shine through."