Northampton Town's Clive Platt not getting carried away
Last updated on .From the section Football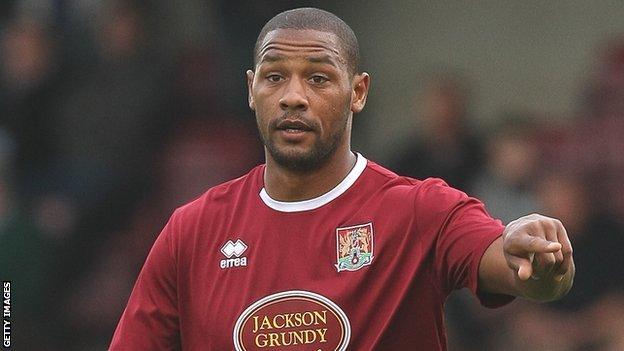 Northampton Town's Clive Platt says there are weaknesses in their game despite the 2-1 Capital One Cup win over Cardiff City.
Platt told BBC Northampton: "A few of their players were missing but they've all had Championship experience.
"However, we're not the best team in the division just because we've beaten a Championship team."
Platt continued: "The manager will get our feet back on the ground.
"We'll build on it and work on our weaknesses. We're not the finished article. We've got a good squad with good lads, who want to learn and improve.
"We'll play better throughout the season as we get to know each other more and more."
The Cobblers fielded seven players who were making their debuts in the victory at Sixfields and manager Aidy Boothroyd was left thrilled with individual and team efforts.
"Dean Snedker was impressive and that's down to our youth department," said Boothroyd. "It would've been easy to go out and get a non-contract player, but he looked like he was a veteran tonight.
"David Artell is a very under-rated player. He's calm, very good on the ball, no-nonsense and he's courageous and leads by example.
"Joe Widdowson was excellent. He's a terrific player and I genuinely believe he's better than League Two. But it's important that we realise we are in League Two and we don't get carried away."
Northampton next travel to Rochdale at the weekend in their first match of the League Two season.