Rangers' Lee Wallace questions future Scotland prospects
Last updated on .From the section Football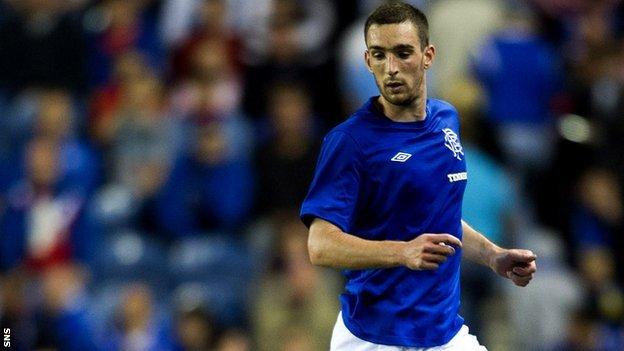 Rangers' Lee Wallace admits he does "question" his future international prospects after being left out of Scotland's match against Australia.
National coach Craig Levein indicated it would be difficult for Wallace to get in the squad now the full-back is playing in the Scottish Third Division.
However, Wallace's Ibrox team-mate Ian Black did get a Scotland call-up.
"I'm a bit disappointed not to have been called in but that's just life," Wallace told the Rangers website.
"I'll take it on the chin and if I'm not involved, I'm not involved. I'm a Rangers player so I'm coming in here and getting on with my job as normal. That's the way I look at it.
"I was happy enough to be involved in the trip at the end of last season, albeit I was called in as a reserve which isn't always great.
"If you're called upon, you get on with your job and that's what I did. I'm disappointed but that's as far as it goes and I'm not going to lose any sleep over it.
"I've got respect for the manager and I'm never going to come out and say anything against him. I don't know how he is thinking."
Levein insisted he was not "closing the door at all" on Wallace and assistant coach Peter Houston said the player was still very much part of the management team's plans.
"I do buy into the fact that when you're playing in the Third Division, you're going to be a bit off the level and the standard required," added Wallace. "I agree with that.
"I wish Blackie all the best for his first cap and his first call into the Scotland squad."
Meanwhile, Brazilian midfielder Andre Moritz has ended his training spell with Rangers after declining to take part in a closed-doors match.
The 26-year-old is a free agent after ending a five-year spell in Turkish football and indicated on a social networking page he was now pursing a move to England.