Tomasz Kuszczak says Brighton must back up promotion talk
Last updated on .From the section Football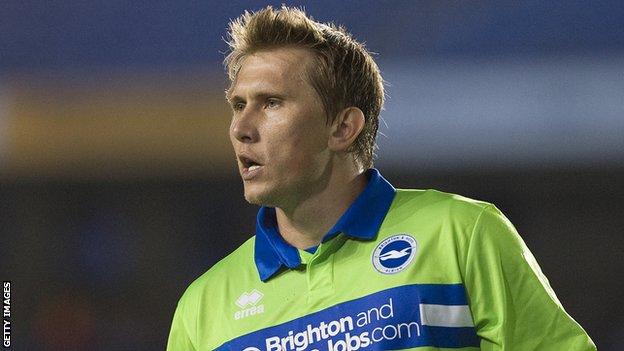 Brighton goalkeeper Tomasz Kuszczak says they must back up their Championship promotion aspirations with strong performances.
The Seagulls finished 10th in the table last season.
He told BBC Sussex: "It's no secret we're here to go up. It's why I decided to come to the club and other players with experience of top divisions did.
"It's only talk. Now we have to prove it on the pitch during a long, tough Championship season."
The 30-year-old Poland international added: "We know how tough this league is.
"It's really physical football and every week is a different game. The way we play is going to be tough as teams will pressure us all the time.
"The pitches are not always the best and it will cause problems but I think we've prepared for that."
Kuszczak does not believe Albion's Capital One Cup exit at the hands of Swindon will affect their confidence ahead of their trip to Hull on Saturday.
"It wasn't the best start," he continued. "I feel we've prepared well but it was cold water on our head before the league even started.
"Personally, I hate losing games, but it's behind us now.
"It was a good lesson for us. It's better that game happens now, not later."
Kuszczak made the move to Brighton in June following his release by Premier League giants Manchester United and is looking forward to a fresh start in Sussex after being restricted to 61 appearances during his six years at Old Trafford.
"I had a great time there over the years but I didn't play enough," he said.
"If you train hard every day for two months and aren't playing you get frustrated and want to be on the pitch. Even at the best club in the world.
"That time is gone and I have a new challenge, new hopes and new players around me.
"I'm a happy person and what I need now is a promotion with the team. It would be great if we could achieve that."