Hearts boss John McGlynn says refs must protect flair players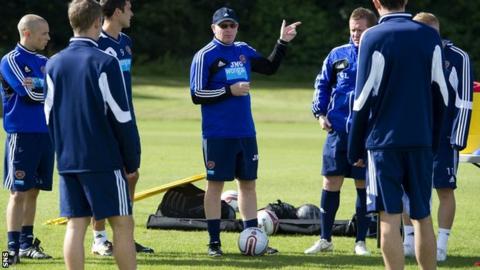 Hearts manager John McGlynn has called on referees to give the game's flair players more protection.
Tynecastle winger David Templeton lashed out when tackled by several opponents in Sunday's 1-1 draw with Hibernian at Easter Road.
The incident was reviewed by the Scottish FA compliance officer and Templeton was handed a two-match ban.
"There were two instances leading up to the incident when [the referee] could have given a free kick," said McGlynn.
"There is no excuse for the kick out. He was running up a blind alley surrounded by players so it would have been quite intimidating.
"There was no way we were going to get an advantage so if he had stopped the game quickly before it became a melee it would not have happened.
"In the Scottish game it's not new and it's not sour grapes.
"In years gone by we have had the likes of Jimmy Johnstone and Willie Henderson and we don't want to lose players with that quality.
"If there is talent in the Scottish game, and Templeton would come into that category, then they need protection."
Meanwhile, McGlynn will consider bringing in a new goalkeeper on a short-term deal.
First choice stopper Jamie MacDonald's partner is due to have a baby and understudy after damaging knee ligaments during the Scotland Under-21 side's midweek defeat by Belgium.
Eighteen-year-old Jack Hamilton may find himself between the sticks should MacDonald not be able to play against Inverness on Saturday.
"In the short term we have to find someone to bridge the gap," McGlynn said.
"We have an ongoing situation and we are looking at perhaps getting someone in on a contract until Christmas.
"Sometimes when you have two goalkeepers you get a bit of luck and manage to get by, but we haven't had that luck.
"Financially things are tight and it's an area we hoped we wouldn't have to spend money on - the main priority was a striker.
"I don't know if the situation will have an effect on whether we are able to get in a striker, we are certainly hopeful we can though.
"I am gutted for the boy [Ridgers]. It's the start of the season, he's been doing well and now he's looking at a minimum of 12 weeks out.
"It is a blow for him and the club and we all wish him a speedy recovery."