Ryan Bertrand targets regular Chelsea spot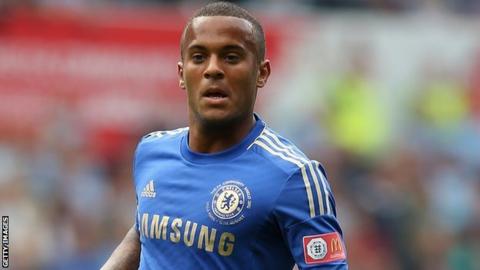 Ryan Bertrand is hopeful his memorable Champions League cameo for Chelsea last season will boost his first-team chances during the new campaign.
The 23-year-old made his European debut in the final against Bayern Munich in May and managed to subdue the likes of Arjen Robben and Philipp Lahm, as Chelsea ran out winners on penalties.
"Hopefully I'll go on and have a good season," the left-back told BBC Sport.
"I played 15 games last season, so if I get 20-25 games it will show progress."
Since that match, Bertrand has competed for Great Britain at the London Olympics, scored a goal in the 3-2 Community Shield defeat by Manchester City and made his senior debut for England, on Wednesday.
The former Gillingham youth player - who has been loaned out to Bournemouth, Oldham, Norwich, Reading and Nottingham Forest while at Chelsea - starred on the left of midfield against Bayern, but prefers to play at full-back.
However, he had to stay patient with established England international Ashley Cole currently occupying that slot at Chelsea.
"He's is one of the best left-backs in the world," added Bertrand.
"We have a good relationship. He's more than happy for me to play more games and pushes me on."
Bertrand is optimistic that with Roberto Di Matteo now in place as the full-time manager, he will be given more opportunities to develop his career at Stamford Bridge.
"His appointment is fantastic for me - to have that same consistency with a manager," he continued.
"I'm still a left-back, but I'm more than happy to fill any position where the team needs me."
Chelsea begin their league campaign against Wigan on Sunday.