Liverpool manager Brendan Rodgers awaits loan move news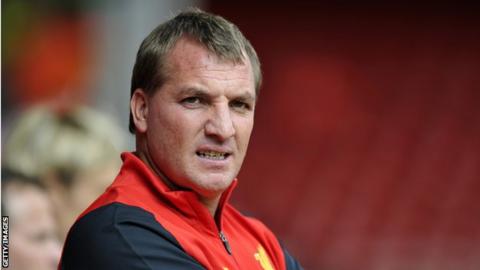 Liverpool manager Brendan Rodgers hopes to find out in the "next 48 hours" whether loan moves for Nuri Sahin and Cristian Tello have been successful.
Rodgers refused to disclose names, but has made enquiries for Barcelona winger Tello and Real Madrid midfielder Sahin.
"We hope in the next couple of days we'll have one or two coming in," the 39-year-old said. "Hopefully in the next 48 hours we will find out."
Rodgers added there was nothing imminent on players leaving the club.
Playmaker Sahin, 23, has struggled to make an impression at the Bernabeu since he arrived from Bundesliga champions Borussia Dortmund last summer, and head coach Jose Mourinho has said he is free to find a new club.
Barcelona are believed to be open to the idea of allowing Spain youth international Tello, 21, the chance to gain first-team experience at another club.
Since Rodgers toook over at Anfield he has brought in striker Fabio Borini and midfielder Joe Allen, both of whom he worked with at Swansea.
Previous manager Kenny Dalglish spent more than £100m during his tenure, but Rodgers has no qualms about operating on a much smaller budget as he attempts to lift Liverpool above their eighth-place finish in the Premier League last season.
He said: "These things take time. There has been a lot of great work going on behind the scenes enquiring about players but the reality is we did not have the money this year.
"We had a certain budget we had to work within and even to get those one or two players we had to move one or two out.
"That is something which does not worry or frustrate me, it is the real world we are in here. It just means we have to be effective with the players we have."