Mark Hudson eyes Cardiff's best Premier League promotion chance
Last updated on .From the section Football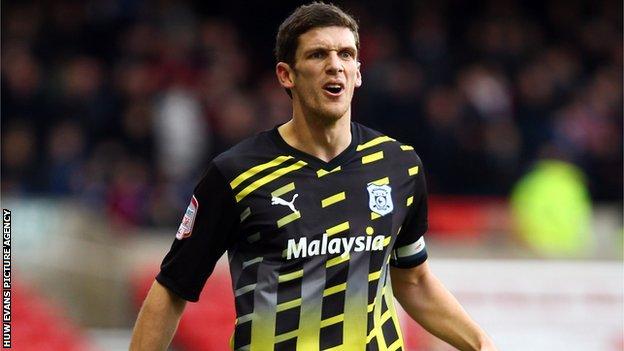 Cardiff City captain Mark Hudson believes they have the best chance of securing promotion to the Premier League this season.
Hudson says summer signings including Craig Bellamy, Kim Bo-Kyung and Jordan Mutch give the Bluebirds a solid base.
"It's the strongest squad, I'd say," said Hudson.
"I look around the squad and think, yeah, we've got really good chances here and I think everyone believes that."
Cardiff are hoping for a winning start in the Championship against Huddersfield at Cardiff City Stadium on Friday after their League Cup campaign ended at Northampton in midweek.
The Bluebirds have had four trips to Wembley since 2008 but have suffered three successive play-off disappointments.
Last season's play-off campaign ended in an emphatic defeat by West Ham United in a two-leg semi-final in May.
Since then the Bluebirds' Malaysian owners have controversially rebranded .
But Hudson says he and his team-mates will not feel any pressure from the change of shirt colour, which some fans have opposed.
Instead the defender says the desire to reach English football's top-flight will prevail in their thoughts.
"The only pressure we've got is from where we've been in the last three or four years is trying to get into the Premiership," he said.
"That's the only pressure I feel as a player is trying to get this club in there. And whether we're wearing red or blue it doesn't really matter [in that respect]."
Hudson says manager Malky Mackay has already added significant strength in depth and quality with more recruits possible.
"We got the players in nice and early in pre-season and we've had a really good pre-season so far," added the former Crystal Palace defender.
"But you can never really tell until the season kicks off. Everyone in there is raring to go.
"We've kept, pretty much, everyone together and we've added, as well, which is great.
"And we've gelled well and it's certainly going to help us, having the experience of last year and we can build on that.
"I think it is [a stronger squad] than last season, with the quality we've brought in as well.
"We've yet to see [South Korean] Kim Bo - he's not in yet, but when he comes in he's going to bring a lot of quality.
"I've watched some of his games and he looked brilliant and the likes of Bellers coming in as well and Mutchie.
"We've added in strength-in-depth as well and I'm sure the gaffer's not quite finished with the transfer market yet and it's only going to add competition and the quality's gone up. That can only help.
"You need a good squad - we were running a bit thin last year and you get tested with the amount of games."
Hudson, who joined Cardiff from Charlton Athletic in 2009, also believes the 2012-13 term will be harder than previous challenges.
"I sort of say it's tougher every year, but it is," Hudson added.
"You look at Blackburn. I can't believe they didn't spend any money last year and they've come down and spent a load of money and brought in Premiership players.
"It's strange. Wolves never let anyone go and the teams that come up will be tough as well.
"It is hard - it's going to be a tough league. Consistency is key and if we can do that with the size of the squad we've got now, then we'll be there abouts."