Liverpool: Champions League football 'critical', warns Werner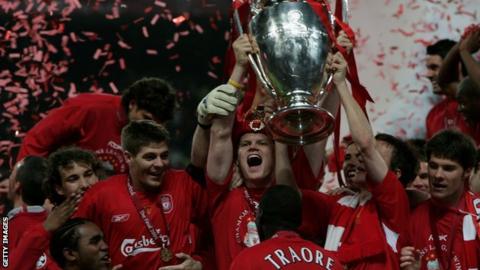 Liverpool chairman Tom Werner has warned it is "critical" the Anfield club secures a return to Champions League football.
Werner told 5 liveSport Liverpool were missing out on vital revenue from the competition.
"It is critical we make the Champions League because there is so much revenue associated with that," Werner said.
Werner also admitted in the interview that mistakes were made in the handling of the Luis Suarez-Patrice Evra affair.
Liverpool play in the Europa League under new boss Brendan Rodgers this season, having qualified via their League Cup win in February.
But it is the loss of revenue from high-profile Champions League matches that worries Werner.
Chelsea earned £47.3m from winning last season's competition.
Liverpool last played in the Champions League in 2009 and Werner wants to see the club rub shoulders with the elite again.
"We see our competitors not just as Chelsea or Manchester City and Manchester United but we see Barcelona and Real Madrid as teams that are iconic and playing good football," he said.
"We know our competitors are working hard. We need to work just as hard and be just as smart."
Werner said the club's management was drawing on its experience of running baseball's Boston Red Sox to try to bring more money into Liverpool, but he refused to reveal whether their plans included leaving Anfield.
He added: "I don't want to compare too much the model of the Red Sox and the model of Liverpool. But where we have been successful with the Red Sox is in increasing revenues and pouring that into the quality of the squad.
"We are in the revenue generating business because the more revenue you make the better the team can be. In that respect the two are similar.
"We are also aware we are behind some of our rivals on match-day income. So we believe it is important to come up with a stadium solution. We have been careful not to announce something before we have all the t's crossed and i's dotted because we don't want to let down our supporters.
"They have been let down in the past.
"But let me assure everyone the present solution does not work and we have to come up with some way to increase revenues on match day, whether that is expanding seating capacity at Anfield or moving to Stanley Park."
Meanwhile, Werner conceded that in retrospect Liverpool should have taken a different course of action over the Suarez case.
The Uruguay striker was found guilty of racially abusing Manchester United's Patrice Evra in October 2011.
Then boss Kenny Dalglish and his players wore T-shirts in support of Suarez during the FA investigation and the club continued to protest his innocence even after the guilty verdict.
Suarez then compounded the issue by failing to shake Evra's hand when the two teams met at Old Trafford in February.
"I think we might have handled it a little bit differently in retrospect," Werner said.
"One thing is for sure, which is that Liverpool stands firmly against racism and so does Luis Suarez.
"We look at this as something where Luis accepted his punishment and it is dealt with.
"Some mistakes were made but I do feel the episode is over with. We have moved on and lessons have been learned."