Paul Caddis 'hurt' by captaincy snub at Swindon Town
Last updated on .From the section Football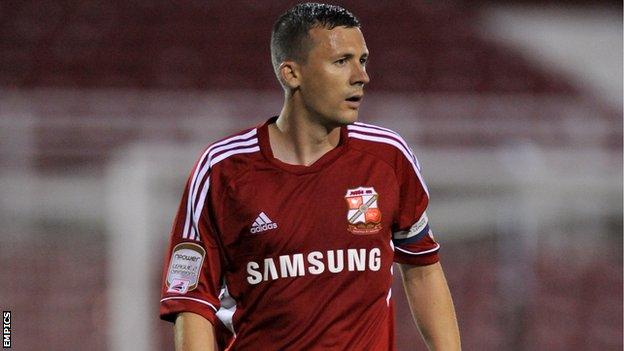 Defender Paul Caddis says he has been left "hurt" and "disappointed" after being replaced as Swindon Town captain.
"My attitude has never been questioned before," he told BBC Wiltshire. "I've always been praised for my professionalism.
"To have that called in to question was really hurtful."
He added: "I don't understand why, but he's got his opinion and he's entitled to that."
The Scotsman took over as captain in October, replacing Oliver Risser who, like Caddis, was dropped from the role by Di Canio.
Caddis led Town to the League Two title and made 50 appearances during the campaign.
But his relationship with Di Canio became fractured during pre-season, and the Italian has since claimed the player's enthusiasm had disappeared since becoming a father over the summer.
But the Scotsman insists: "There's not a problem with my kid, with sleeping or anything like that.
"One thing that really disappointed me was the mention of my baby.
"You start hearing through people that me and my Mrs can't cope. It's total lies.
"At the start of pre-season I told the gaffer I wasn't as fit as I wanted to be, but there was still 40 or 50 days to go.
"I'd just had my first kid on the 17th [June] and we were due back on the 27th.
"You don't want to leave your kid's side, especially for the first week. It was tough for me to switch off from that and go and do running.
"I thought pre-season was meant to get you fit but the gaffer wasn't happy that I came back in that shape as I came in behind some of the other ones.
"It was a mistake on my behalf but hopefully I'm not far off now."
Caddis was dropped for Swindon's Capital One Cup win over Brighton on Tuesday and it remains to be seen whether he will play a part in their opening League One game at Hartlepool on Saturday.
He believes his immediate future remains at the County Ground but says he does not expect to win back the captaincy.
"Under the current manager? I don't know. I think he's made the decision," he admitted.
"The quicker I learn to deal with it the better. I like responsibility but the band has been passed on to Macca and I've got to respect him. I've just got to move on now.
"I don't want a public argument, I just wanted to get my point across.
"Me and the gaffer had a disagreement but is not the end of the world. We are grown men and we respect each other.
"Things have been said, actions have been taken and it's time to move on."