Jordan Moore-Taylor impresses Exeter City manager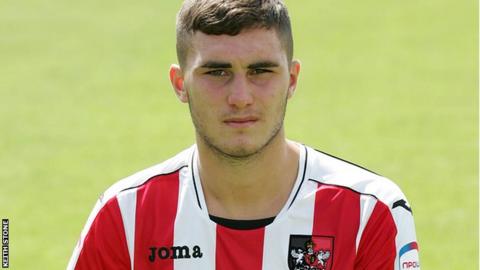 Exeter City manager Paul Tisdale says young defender Jordan Moore-Taylor has a bright future at the club after making his debut earlier this week.
The 18-year-old acquitted himself well in the 2-1 loss to Crystal Palace in the Captial One Cup.
"It was exceptional for an 18-year-old making his first senior start," Tisdale said of Moore-Taylor, who signed his first professional deal in April.
"I think we've found another player capable of playing first-team football.
Tisdale added: "He won't play every game this season as he's still got a lot of development to do and a lot to learn, but it's a good start."
Moore-Taylor had to contend with Palace winger Wilfried Zaha who Tisdale described as 'one of the brightest players in the Championship'.
"He was maybe playing out of position as he's mainly played centre-half and he played at left-back.
"But he's good footballer and when you're a good footballer you have the wherewithal to make good decisions.
"He's strong for his age and he was certainly physically capable of playing, but most importantly I thought he was able to cope in terms of his concentration, confidence and decision making and he didn't disappoint us."
City promoted six players from their youth team to the professional ranks in the summer, and Tisdale says Moore-Taylor's step into the starting line-up shows that there is no reason why the others cannot do the same.
"It puts them closer to the first team and with a good three or four weeks which Jordan has had. In the space of a month you can gain the trust of the manager and get an opportunity and he's taken his opportunity.
"But I think we should appreciate he's still very young and there's still a lot of progress to make."