Sean O'Driscoll backed to succeed at Nottingham Forest
By Owen Phillips
BBC Sport
Last updated on .From the section Football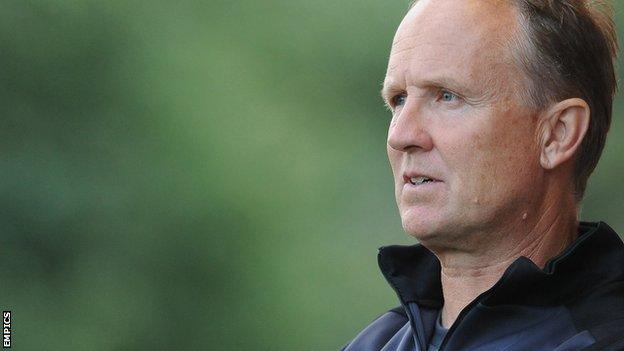 Nottingham Forest's new manager Sean O'Driscoll may not, even by his own admission, be the iconic name initially promised by the club's new owners.
But the Reds could not not be in better hands, according to a man who knows him as a player, coach, assistant boss, manager, friend and physio.
Veteran Bournemouth striker Steve Fletcher is nearing the end of a 24-year career and has not played under his fellow Cherries legend O'Driscoll for six years.
But he still has huge respect and admiration for a man he says has shaped his career. And Fletcher is certain Forest's appointment will prove a shrewd one on all levels.
"If there was a period in my 20 years at Bournemouth where I could say say 'that's the time where I become a true professional and looked at things differently', it would be under Sean O'Driscoll," Fletcher said.
"I actually played with him in my first year as a pro in 1992. When I signed, Sean was still playing and I played with him for a season.
"He has had spells as youth-team manager, physio, he was reserve-team manager, assistant manager and then worked his way up to the first team in 2000-2001.
"Every player I speak to praises his methods, his work ethic and his ethos.
"He is a quiet man. Sean is not the type of manager who is on TV and in the public eye. He was a massive, massive influence and I am sure he has been on so many players who have played under him.
"His nickname here was Mr Happy. He comes across quite serious but that's just the way he is. I know the other side of Sean.
"I still phone up now when I want advice. I was assistant manager here for 10 months last season and phoned him up regularly for advice for football and non-football matters. I hold him in that high a regard."
Fletcher, 40, says O'Driscoll combines tremendous desire, with a willingness to learn as well as meticulous preparation.
"He was probably the first manager who looked at things differently in the lower leagues," Fletcher added.
"When players came to us they would always say he did things differently. I would say he was ahead of his time when he took over and he has set the way the club has been run since.
"He was a big believer in making training professional. You trained the way you played. It was more intense. He looked at every aspect of the club.
"We got a good tag in the lower leagues. We were tagged as one of the best footballing teams around. A lot of clubs sent their younger boys here because they knew they would get a good education - especially playing under a manager like Sean.
"Football became more scientific and people would look into it more. Sean said that was not just for the big boys. He took it on board and he did everything he could to make us a better team. He leaves no stone unturned."
But Fletcher says that all O'Driscoll's coaching qualities are underpinned by his great management skills.
"He will explain things to you, why you weren't in the team, why you were doing something in training or why you were playing a certain way," Fletcher added.
"Sean will tell you the truth. He will tell it as it is. You have to respect the man. He won't pussyfoot around. If something needs to be said or addressed he will do it there and then.
"He won't just do things and leave you to second guess. Everything was addressed and addressed in the right way, I cannot really praise him enough.
"Sean gave me the inspiration to go on and play and have responsibility.
"He's not a shouter but he gets his point across. A look from Sean was enough to let you know if you weren't doing it right. He didn't have to throw things around.
"He deserves to be managing at the top level."
The prospect of O'Driscoll managing in the Premier League after a career in the lower leagues looks a lot brighter following his return to the City Ground in July.
New owners the Al-Hasawis seemed intent on a stellar name to spearhead the new era - although the use of the word iconic may well have been a little lost in translation.
Rival fans were quick to scoff at O'Driscoll's appointment, after the initial hype linked the club with Glenn Hoddle, Sven-Goran Eriksson and even Diego Maradona.
But the decision to go with O'Driscoll - even if he was not their first target - is beginning to look smarter by the day.
"All the iconic names I know are dead," O'Driscoll said in his first interview.
O'Driscoll's appointment was the overwhelming choice among the club's players and the steady transfer market business - conducted with the minimum of fuss since then - all points to a fine season.
Eight new signings have already arrived and the atmosphere around the City Ground has changed from one of a depressing realisation that another season of struggle beckons, to quiet confidence and trust in the new man at the helm.
O'Driscoll has had money to spend for the first time as a manager, but Fletcher says his Forest buys are in keeping with what the striker would expect.
Striker Simon Cox has joined from West Brom, defenders Daniel Ayala and Sam Hutchinson have moved to the Reds on loan from the top flight and the squad is beginning to take shape.
Fletcher added: "He has been in and around the Championship for many years now and I am sure he will have had a list of players as long as his arm who he would like to get hold off to take Forest in the right direction.
"Which manager wouldn't want millions to spend? But his most important thing is getting in players who will buy into what he wants to do. He will look at the bigger picture.
"Forest will have an enthusiastic young team that can be built on. That has always been his way.
"He had that at Bournemouth and we sold so many fantastic players to higher clubs and and the majority of them were when Sean was here.
"He's never been at a club and spent millions and even if he did at he will look at it deeply. He will look at every aspect, if it is right for the club and the team.
"His ethos is he will get players in with good ability who will work on things but they have to be right for the club and the team. He nurtures players and builds a team and that's why he has had success. He spends wisely. He thinks things through."