Portsmouth administrator Trevor Birch urges swift PST response
Last updated on .From the section Football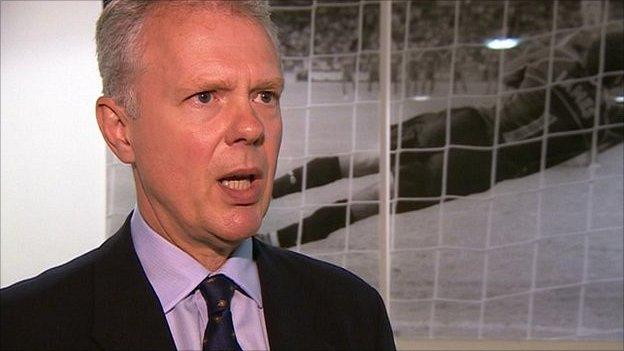 Portsmouth administrator Trevor Birch says time is running out to save them and hopes the Pompey Supporters' Trust will finalise their bid by 24 August.
The PST remain the club's only hope of survival following Balram Chainrai's decision to withdraw his offer.
And Birch says fans need to now start pledging their support for the Trust.
"I would hope by the end of next week the Trust will say to me we are ready to go," Birch told BBC Radio Solent.
However, the issue of player compromise agreements has now emerged as a major stumbling block in the Trust being able finalise their bid.
Birch had worked tirelessly to clear the club's wage bill by 10 August, striking compromise agreements with 10 players including Tal Ben Haim who had been on wages of £36,000 a week.
Those agreements were believed to total around £8m, but the Trust have only set aside £2m to settle all player debts, according to their bid proposal.
If the players still owed monies will not accept lower pay-off deals the club could be liquidated.
In addition, the PST's business plan has yet to be seen and ratified by the Football League, who must approve any application by prospective new owners of a club.
"They will need to go back to the Football League with a business plan that is acceptable," added Birch.
"The compromise agreements also need to be revisited and we need to look at the Trust plan and see what can now be paid to the Football Creditors."
Chairman of the Pompey Supporters Trust, Ashley Brown, echoed Birch's sentiments and stressed that they are still in talks with Chainrai over the purchase of Fratton Park.
The PST have offered Chainrai £2.75m for the ground - which is still owned by the Hong Kong businessman.
"We are still trying to negotiate with [Chainrai's company] Portpin for the sale of Fratton Park," Brown told BBC Radio Solent.
"It can't take too much longer, I hope by the end of next week we will have a good idea of what is going to happen.
"Portpin still have that fixed charge on the ground. We still want to play at Fratton Park, we've offered a certain amount of money for that charge to be freed up.
"That can either be agreed with Portpin or the administrator can go to the courts and try and get them to agree that."