Blue Square Bet North: Brackley Town players backed to shine
Last updated on .From the section Football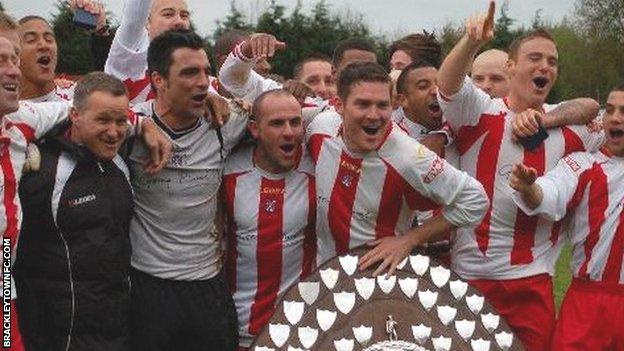 Brackley Town will keep faith with much of the team that brought the Southern League championship to St James' Park.
They are about to embark on their first season in the Blue Square Bet North.
"I've said to my players I'll give them the opportunity to prove themselves in the first 10 games," manager Jon Brady told BBC Radio Oxford.
"I'm being faithful to the boys that got us there last year. I've given them the opportunity and we believe they can perform."
The Saints, who were playing in the Hellenic League just a decade ago, completed a remarkable rise to non-league's second tier after winning the Southern League by eight points last season.
Brackley's summer transfers have added a wealth of higher league experience to the squad, with former Oxford United trio Michael Corcoran, Eddie Odhiambo and Wayne Hatswell arriving at the club.
New signing Hatswell believes the experience he will bring to the squad will help some of the younger players adjust to the higher league.
"We've got a few young players who are stepping up and it'll be a tough league," said Hatswell. "We'll need determination and grit and hopefully I'll bring that.
"It's the first time the club's been in this kind of position. There's a little bit of expectancy on everybody now because they delivered last year, but we've kept the nucleus of that team and the manager wants to build on that."
Brackley's St James' Park ground has undergone a transformation over the summer in order to meet the ground grading requirements of the Conference.
But chairwoman Sara Crannage says there is plenty more to be done.
"We were optimistic towards the end of the season and preparations were put in place hoping for promotion. Off the pitch a lot of work has gone on in preparation for ground grading," Crannage told BBC Radio Oxford.
"We've got three large projects which we're trying to complete at the moment, so we're very busy with planning applications."
And Crannage is optimistic that Brackley will be successful on the field as well as off it, adding: "Everyone sets out to do well in the league, there's no point being in a competitive league if that's not your ambition.
"We're realistic enough to know it's a big step for us, but it's an exciting time for the club."