Gianfranco Zola needs 'ability to adapt' says Watford fans' group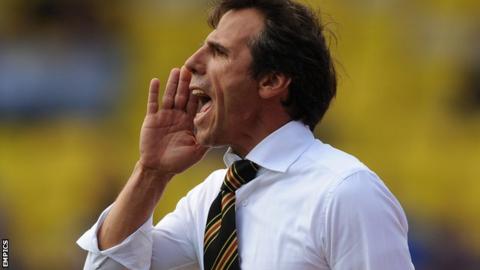 The chairman of the Watford Supporters' Trust believes the "jury is out" on manager Gianfranco Zola as he heads into his first season in charge.
Zola, 45, was appointed by the Pozzo family, the club's new owners.
"He's clearly a very good coach, but can he coach players to play in the Championship?" Professor John Fawell told BBC Three Counties Radio.
"He doesn't know, we don't know. He believes that he can, therefore we've got to give him the chance to do it."
Zola was manager of West Ham from 2008-2010 after an illustrious playing career in which he made over 300 appearances for Chelsea, but has never managed below the top tier of English football.
"The key will be his ability to adapt to the changing circumstances and changing conditions of the Championship," said Fawell.
Since Zola's appointment at Vicarage Road, the squad has been transformed by the arrival of eight new players - six of them on season-long loan deals from either Udinese or Granada, the other clubs owned by the Pozzos.
And although the Trust has backed the owners to lead the club back to the Premier League, they believe this season will be transitional.
Watford face Crystal Palace in their opening game, having needed extra-time to beat League Two Wycombe 1-0 in the Capital One Cup.
"They've got a lot of experience around Europe but not the Championship. So they might have their eyes opened to see the quality of the football and the physical side of things in the second tier of a national league," said defender Martin Taylor.
"It's going to be full-on on Saturday and hopefully we can get that across to them before they go out on the pitch that it will be a real test of their character as they going into these games."
The Trust's concerns about the possibility of Watford being used as a 'feeder club' by the Pozzos to give players experience before returning to their overseas teams have eased.
"What we're getting are not players they are introducing to replace our youngsters," Fawell added.
"There are young players, but with a lot more experience and a wider experience, but we are also seeing some older, more experienced players, so it's not quite what I'd feared."