Michael Chopra backed for good season by Jason Scotland
Last updated on .From the section Football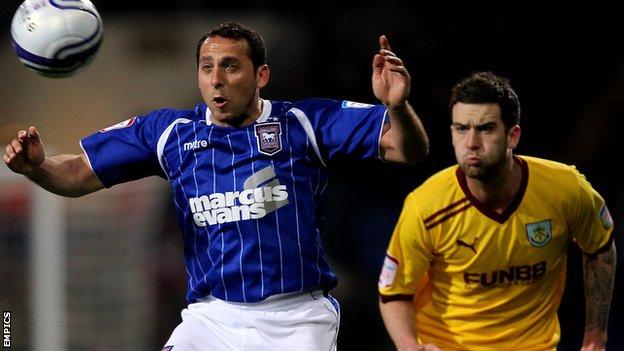 Ipswich striker Jason Scotland believes team-mate Michael Chopra could be set for a prolific season after a spell at a fitness camp in the United States.
"He's saying he's going to get 30 (goals) this season," Scotland told BBC Radio Suffolk.
"He went away to California and he's come back looking sharp and hungry."
Chopra is one of the most dangerous marksmen outside the Premier League but it was 33-year-old Scotland who sparked Ipswich's revival with the equaliser as they came from behind to beat Bristol Rovers in the Capital One Cup.
"I think we complement each other - Michael likes to go long and I like the ball to come to feet - which we did on Tuesday and for part of last season," Scotland continued.
Like Chopra, midfielder Jay Emmanuel-Thomas was also put on an intensive fitness programme by the club over the summer and he thinks he is now in the best shape of his career.
"I went to a running school in Chiswick to work on running technique and being able to do short bursts of eight to 16 seconds repetitively, over and over again, and it's benefited me quite a lot," he said.
Although manager Paul Jewell admits his squad is three players short are present, both Scotland and Emmanuel-Thomas believe there is enough quality to start the Championship campaign on the front foot.
"The team's got a lot of young boys with a lot of talent, so hopefully the older players can show us the right way and we can do our stuff on the pitch.
"The (transfer) window is still open, it closes for two weeks then opens again for loanees, so you never who's going to be coming through the door and I think this team has a very good chance," Emmanuel-Thomas added.