Gaston Ramirez: Southampton's Nigel Adkins excited by prospect
Last updated on .From the section Football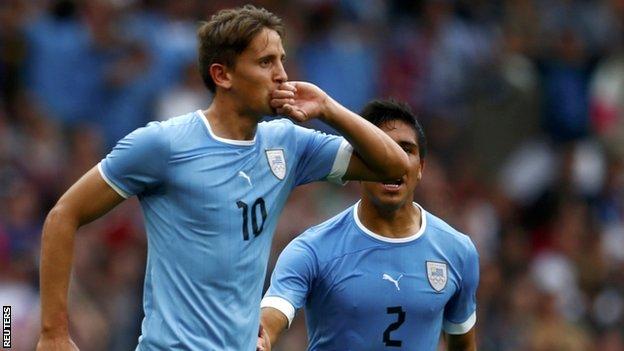 Southampton are close to signing Gaston Ramirez for a club record £11.8m fee, according to reports in Italy.
The Bologna midfielder, 21, told newspapers on Friday he was signing a four year deal with the Premier League new boys.
Saints manager Nigel Adkins admits talk of the Uruguayan arriving at St Mary's is exciting.
"If it is true, then it obviously shows the ambition of the football club," he said.
"I think he has come out in Italy and said it is already sorted, but I think you'll find the policy of the football club is until the player has signed on the dotted line and we announce it then really we try to do everything privately.
"We have been consistent with that over the years and we'll probably stay that way.
"It looks exciting, doesn't it?"
Signing Ramirez on the eve of the season would be a big statement for a club that came out of administration in July 2009.
They have already broken their transfer record once this summer in buying Jay Rodriguez from Burnley for £7m.
Adkins added: "I know the chairman, Nicola Cortese, is very ambitious here and it is great.
"We were in administration a few years ago and we've come a hell of a long way in a very short space of time.
"To be linked with players such as this shows we're very ambitious, but likewise we'll cut our cloth accordingly.
"Having been in administration once, the last thing we'll do is end up in that situation again. The club is run very well, very prudently.
"But we're very, very ambitious and having reached the Premier League now, very quickly, we've got to give ourselves an opportunity to do well there."
Bologna president Albano Guaraldi has poured cold water on the deal though by suggesting a transfer is far from completed.
"Ramirez can say whatever he wants and I know he is very angry about this situation," Guaraldi told the Corriere di Bologna.
"But I am the president of Bologna, and if the deal is only satisfactory to two parties out of three and the third is me, it won't be done.
"The conditions proposed by the British team did not satisfy me: they must either change or Ramirez will remain a Bologna player."
Southampton start their Premier League campaign with a trip to champions Manchester City on Sunday.