West Brom boss Steve Clarke holds no grudge over Liverpool exit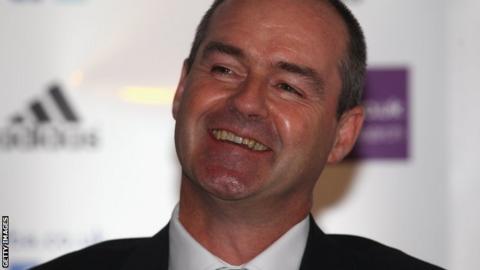 West Brom boss Steve Clarke says he has no grievance over his Liverpool exit, but believes they are under pressure to finish in the Premier League top four.
Clarke's first game in charge of West Brom is against Liverpool on Saturday.
He was Kenny Dalglish's assistant at Anfield until they were sacked at the end of last season.
"Kenny and I were pretty sure with the group of players we had, that Liverpool would be in the top four this season," Clarke said.
Asked whether new Liverpool manager Brendan Rodgers will be expected to make that top-four target, and the Champions League spot that comes with it, Clarke said: "Not if you read what the owners are saying there.
"They said that top four is not imperative for the current season but I don't believe that.
"A club like Liverpool have to be there challenging for the top four. I don't think they can accept anything less."
Clarke added: "I've got no grievance whatsoever with Liverpool Football Club. I had a fantastic time there and obviously after Saturday I'll wish them well for the season."
Rodgers has not publicly declared a top-four spot as his target, instead stating that his aim is to improve on last season, when Liverpool finished eighth.
The former Swansea manager said: "I've said right from the off I want to make us as competitive as we can possibly be.
"The challenge at the top of the table is greater than ever. Now there are seven or eight teams involved but the top four is certainly not something we'll shy away from.
"It's where a club of this status wants to be but it's always easier said than done and the reality over the past three seasons or so hasn't been that.
"Our job is to try to push on. There has been a lot of work done over the last few years to try to get the club back into the top echelons of the league so we are hoping to do that."