Dato Chan Tien Ghee asks Sam Hammam 'be reasonable' over Cardiff debt
Last updated on .From the section Football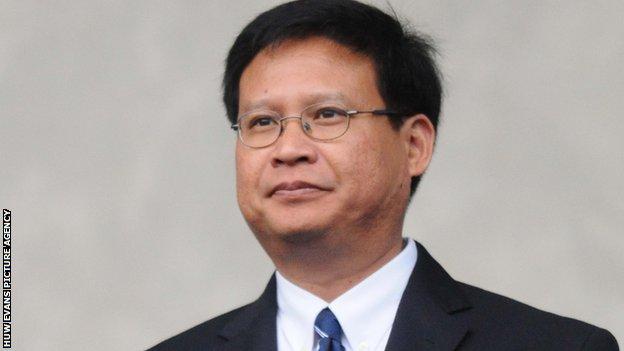 Cardiff chairman Dato Chan Tien Ghee has urged predecessor Sam Hammam to "be reasonable" over the estimated £15m debt owed to his company Langston.
Ghee says Cardiff's debt is £40m-£50m and that Hammam could help make the club financially sound by negotiating a deal to settle his portion of the debt.
"I would appeal to him [Hammam] to be reasonable," said Ghee.
Malaysian backer Tan Sri Vincent Tan has pledged £100m to help reach the Premier League.
That money promise came with a controversial decision to rebrand the team from blue to red for the start of the 2012-13 season.
But no deal has yet been finalised over the debt to Langston, which was taken out in 2004.
In a bid to clear that the club offered Langston three options - £8m to be paid now, £10m with £3m paid now and the rest in May, or £13m with £8m this year and an additional £5m if Cardiff are promoted.
Cardiff chief executive Alan Whiteley says Hammam has also been offered the role of honorary life president as part of the deal.
Businessman Hammam brought an end to his six-year tenure as Cardiff City chairman in October 2006 after agreeing to sell his majority share holding.
After that former Leeds United chief Peter Ridsdale took over the role at the south Wales club.
Since then, Ridsdale has also left Cardiff following investment from the current Malaysian-based owners in 2010.
Ghee told BBC Wales: "We've cleared a lot of the legacy issues and… what have you.
"I think a lot of the debts are our own advances, in some ways.
"We do have the previous owner of the club, Mr Hammam, with a company called Langston - we still have a legacy issue which we are now trying to come to some agreement.
"It's not been easy, but this is an on-going work in progress.
"I would hope that Sam would be - I mean if he has this passion for this club - and a love which he has always said to me - look you've had your time and you've done your best and we recognise that fact.
"At this stage, give us a reasonable arrangement where we could take this club on to the next platform and be part of this legacy in that sense.
"I would appeal to him to be reasonable in that sense."
Ghee has also attempted to reassure Cardiff fans that the current backers are determined to build a long-term successful future for the club.
He said: "We've spent a lot of time trying to explain, especially to those who were totally against the scheme, the ramifications of such a transformation.
"It [rebranding] also comes with further investment; it comes with putting this wonderful club on a platform which we hope, if we do get to the Premiership, everything's here.
"We're actually trying to make this club survive for the next 100 years, God-willing.
"If we were to walk out, we would have walked out during the dark ages.
"And two-and-half years ago when we came in HMRC [Her Majesty's Revenue and Customs] was on our backs, literally wages were at large and what have you.
"We've had two years of stability. We were twice at Wembley and our season tickets are still strong, especially in this day and age."
Ghee added that reaching the Premier League is "critical" to the club's future.
"It's critical for any club being serious, with the sort of expenses which are being borne at the moment, to get up there, because obviously it's two different worlds. That's very competitive," he said.
Cardiff kicked off their Championship campaign with a 1-0 win over Huddersfield at the City Stadium on Friday.