Victor Anichebe wants stability in the Nigeria set-up
Last updated on .From the section Football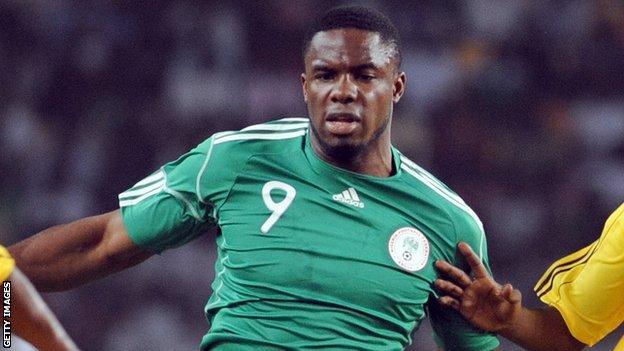 Everton and Nigeria's Victor Anichebe says there needs to be stability in the Super Eagles as it goes through a period of transition.
Nigeria have struggled recently and failed to qualify for the Africa Cup of Nations earlier this year.
"Now is the time to stick with one coach, we can't be changing coaches all the time," the striker told BBC Sport.
"If you stick with the team and have a stable base then I'm sure Nigeria will get back to where it's supposed to be."
The 24-year-old, who won a silver medal with Nigeria at the 2008 Olympics in Beijing, says he is all too aware of the expectations of the fans.
"Nigerians really are big football lovers and they look-up to the team and the expectations are huge," he said.
"But the expectations are huge in the [English] Premier League too so it's something we're used too.
"It's always an honour and a great pride to represent your country.
"Whenever you do so you don't look at the expectations so much, you just look at the real pride and honour to represent your family and your country.
Anichebe also urged the fans to continue supporting the team.
"Through these transition periods the country needs to stick with the team and bide their time because at times like this there will always be good patches and bad patches," he said.
"I think they are trying to bring through some of the younger players and and some of the home-grown players - which is great for the country."
Nigeria's next game is away to Liberia in September in the first leg of the final round of qualifying for the 2013 Africa Cup of Nations.