Swansea City boss Michael Laudrup glad of confidence boost
Last updated on .From the section Football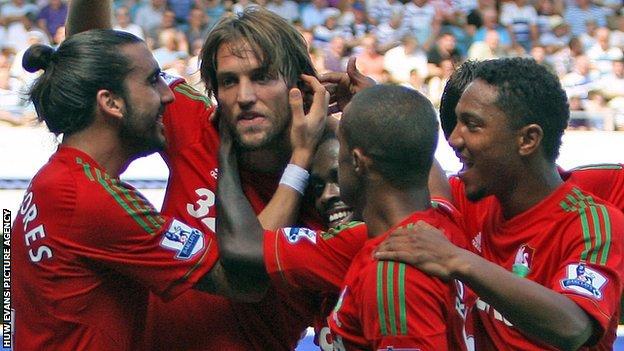 New Swansea manager Michael Laudrup said his side's emphatic win at QPR on the opening day of the season will give them a welcome confidence boost.
Laudrup, who took over from new Liverpool boss Brendan Rodgers in the summer, said: "Last season Swansea won their first away game in the beginning of January, so it's fantastic.
"Every player, manager and club starts a new season a little doubtful."
Michu and Nathan Dyer each scored twice at Loftus Road while Scott Sinclair added the fifth.
Jonathan de Guzman, Chico and Michu were making their Premier League debuts for the south Wales club and Laudrup says they have not disappointed on or off the pitch.
"Michu - two goals and the second one was a fantastic goal. But I've worked with two of the players, Chico and Jonathan de Guzman, and I've seen Michu many times.
"And apart from their quality as players, I know more or less their personality.
"They are players who want to show a great attitude and that's important as well because they are coming to a small team over here.
"But they have integrated perfectly in only five or six weeks and that's important for me as well as a manager."
Laudrup added: "It's just the thing we needed, to start like that.
"Confidence is very important and you could already see it in the players in the last third of the game.
"Because everybody - every player and manager and club - starts a new season a little doubtful.
"I also know that Swansea is no longer a surprise to anyone because everybody analysed them last season.
"So that's why we have to develop something - to put something on top, you could say - and we still have to work a lot on positioning on the pitch."
However, the Dane warned that Swansea will inevitably face some difficult times in the coming months.
He said: "We all know there will be bad days and bad weeks, maybe even a bad month.
"But you can prepare for it. And like you say with the weather - enjoy it while it's there.
"We know there will be worse days, but nobody can take away what we have achieved and the confidence it gives us for the future."