Rangers: Charles Green brands SPL 'incompetent' over oldco debt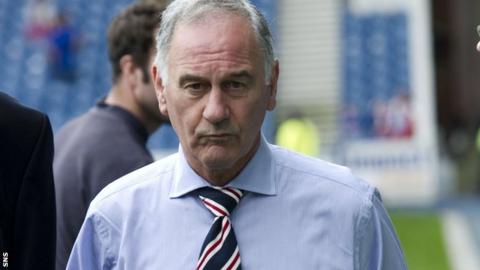 Rangers chief executive Charles Green has accused the Scottish Premier League of incompetence over the handling of a debt owed to Dundee United.
Green claims the SPL agreed, in a letter, to settle the debt - but the league maintains the agreement was with Rangers oldco and is now void.
"Either the SPL were drunk when they wrote that letter or they're incompetent because it appears they didn't pay that money," said Green.
The SPL has not replied to the remarks.
Rangers oldco went into administration in February and filed for insolvency in July due to unpaid debts.
A consortium, Sevco (Scotland) Ltd., led by Green purchased the former company's assets and changed its name to The Rangers Football Club Ltd.
The newco was granted a transfer of the previous company's Scottish Football Association licence with one of the conditions of membership being the payment of all football debts.
In a financial report produced by the administrators, Duff & Phelps, Dundee United were listed among several clubs in Scotland, England and Europe as being owed funds from the former company.
BBC Scotland has learned the amount owed to United is believed to about £30,000 and relates to a Scottish Cup tie played at Hampden.
On Monday, Green published a statement on the Rangers website lclaiming all of the debts to Scottish clubs had been paid, but United insisted on Wednesday that they had not received any funds.
In a subsequent statement, Green reiterated his previous claim that the debts had been paid.
Ahead of Saturday's win against East Stirling at Ibrox Green told BBC Scotland he was in possession of correspondence from the SPL which backed up his claims.
"I paid Hearts and I paid Aberdeen," Green told BBC Scotland's Sportsound programme.
"We had a letter from the SPL dated 18 May, which I'm happy to share with anyone, that clearly states, that the Dundee money - and it speaks only and specifically about Dundee - would be paid by the SPL out of monies due to the club.
"Now, I've got enough problems at Rangers without trying to sort the SPL out, but I'm sure if there's a job available in the future, I'm quite happy to put my name down when I finish the job at Rangers."
Meanwhile, Green also insisted that the charges brought by the Scottish Football Association against him and Rangers manager Ally McCoist would be vehemently challenged.
"I stand alongside Ally that we have to stand up and defend our positions," said Green.
"We believe that the charges against us are wrong, completely inappropriate and we believe there's a freedom of speech. We believe that we have got responsibilities as custodians of this club.
"But we're not going to sit here being abused with our hands across our mouths, and we will speak when we feel it's appropriate to do so."