Swansea City: Michael Laudrup can defy doubters - Nathan Dyer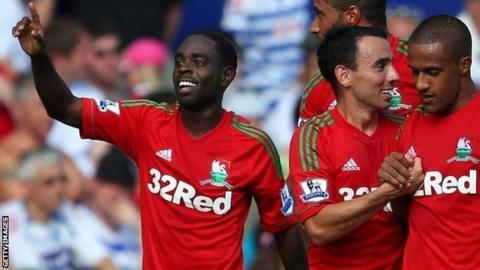 Nathan Dyer believes new boss Michael Laudrup can help Swansea defy those who say they will struggle in their second Premier League season.
Dyer scored twice in the Swans' 5-0 win at Mark Hughes's QPR in their opener.
"If we can keep some of the stuff that we had in previous years and put some of his [Laudrup's] stuff in there, then we're going to benefit from it," said the midfielder.
Debutant Michu also scored twice with Scott Sinclair adding the fifth.
Dyer helped Swansea win promotion to the top flight ahead of the 2011-12 season under former manager Brendan Rodgers.
The Northern Irishman took over at Liverpool during the summer and Laudrup succeeded him at the Liberty Stadium.
Dane Laudrup says the win at Loftus Road is a boost to the Swans' confidence.
And Dyer says Laudrup has already stamped his mark on the Swans' widely-admired style, adding: "It's been brilliant - he's come in and done well.
"It was a great start to the season from us and… we always wanted to go out there and go straight from the off and luckily we got a lot of goals and we played well.
"Everyone says the second season's the hardest and we know that and we've seen a lot of teams struggle.
"But for us, I don't see why we should struggle if we carry on the way we did last season.
"Obviously we've got new faces and a new manager and players, but they're taking it in their stride and we've been playing really well.
"Our new gaffer was a great player in his day and he's going to have bags of knowledge and obviously he's going to pass it on to us and have his ideas.
"We had a lot more chances this game [against QPR] and I think that's what the new gaffer wants.
"The main aim is to score goals and win the match.
"We're looking to penetrate through the middle and make runs and get a lot of shots off and we had a lot of chances and luckily we scored five.
"He doesn't like us to stand next to the defender. It's harder for them to pick us up if we're able to move around and I thought Wayne [Routledge], on the other flank, was brilliant.
"He was coming in and threading balls through so it was nice that he was giving me the bit of freedom to move about and obviously I can hurt defenders that way."
Swansea will now prepare for their first home game of the season against West Ham on Saturday.