New Premier League season, same old Manchester City?

By Chris Bevan
BBC Sport at the Etihad Stadium
Last updated on .From the section Football154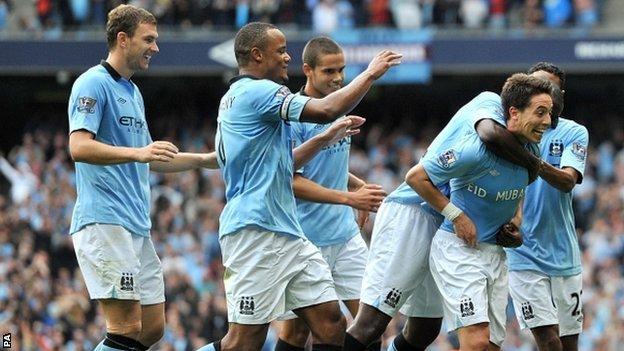 One of the many Manchester City fans who shuffled past my desk on the way to the Etihad exits after the final whistle of their breathless win over Southampton on Sunday gave me some slightly tongue-in-cheek advice about what I should write in my match report.
"You only need three words, mate: Never. In. Doubt."
He could laugh, because Roberto Mancini's men had the three points in the bag from their opening league game of the season, but the City faithful would no doubt welcome being able to describe a result in that way without intending any irony.
Their side's last three wins have all been from losing positions, and all ended in a 3-2 scoreline - good for the trophy room because two of them have secured silverware in the shape of the Premier League trophy at the end of last season and the Community Shield at the start of this one.
But bad for the general health of their supporters, who have had to suffer a multitude of heart-stopping moments and mental anguish along the way.
On Sunday, there were definite echoes of that famous last-gasp title-grabbing win over QPR in May, and not just the order in which both sides scored their goals.
City's latest triumph did not have a trophy riding on it, but the manner of their victory over the newly promoted Saints demonstrated how, although they have definitely kept their winning habit, they still prefer to do it the hard way.
Part of the latest rollercoaster ride was just plain unfortunate - Sergio Aguero's knee injury, for example, that saw the Argentine stretchered off after just 13 minutes.
But much of it was self-inflicted, taking in David Silva's mess of a penalty, a series of missed chances at the start of the second half, and Jack Rodwell's stray pass that allowed Southampton to break forward and take the lead in a game where City should already have been out of sight.
Cause for concern? No, not publicly at least. Mancini admitted afterwards it had been an error-strewn display but put that down it to it being the start of the season, rather than something we should expect every week.
"The first game is always difficult," Mancini said. "The team also only trained together on Saturday because we had 15 players away on international duty.
"Our defence didn't play well but the situation we were in was not just their fault because we had a lot of chances. When a team like us has 10 chances to score to close the game out, we should close the game out."
Arguably they might have done just that if Aguero had remained on the pitch.
The Argentine was not just City's top Premier League scorer with 23 goals last term, nor merely the scorer of the goal that secured the title.
He had formed a prolific partnership with Carlos Tevez in the final six games of the season, of which City crucially won all six, with the pair notching nine times between them out of a total of 18 goals from the whole team.
In a week where the headlines have been about the potential of Wayne Rooney linking up with new Manchester United signing Robin van Persie, if the news about Aguero's knee is bad then City have been robbed of a proven Premier League pairing.
Fortunately for Mancini, there is another reason to say "same old City" aside from their dramatic last-ditch triumphs.
One of the other similarities the start of this season bears to the end of the last is that the Italian still has strength in depth to envy in his squad.
Things don't necessarily get any easier from here - a trip to Anfield is next on the agenda, a ground where City have won only once in the past 30 years. Then comes a repeat of that famous clash with QPR.
But, even without Aguero, City have Tevez in fine form on the pitch and seemingly happy off it.
Edin Dzeko, a scorer against Southampton, and Mario Balotelli are also waiting in the wings, enough of a back-up for Mancini to quickly dismiss the suggestion that Emmanuel Adebayor could yet play a part in his team.
So, City will not lack firepower if they again find themselves chasing a game, although, for the sake of their fans, a more straightforward win or two is probably long overdue.