Bristol Rovers end interest in Oxford's James Constable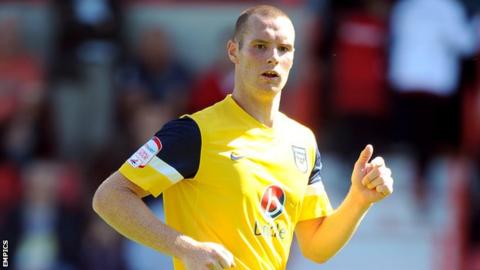 Bristol Rovers say they have ended their pursuit of Oxford United striker James Constable after having a third bid rejected for the 27-year-old.
Rovers have been pursuing Constable since May, but Pirates chairman Nick Higgs says Oxford's valuation for the player is too high for League Two.
"I made a final offer last Monday and it was finally rejected on Friday," Higgs told BBC Radio Oxford.
"We will no longer be pursuing James Constable, because of their valuation."
Constable scored 11 goals in 43 appearances last season and was also the subject of a failed bid from Swindon Town last season.
Higgs says their offer for Constable is fair and he will not go any higher.
"Their valuation for the player in our opinion is too high for this league," said Higgs.
"It's more than we are prepared to pay. We've offered a six figure sum, which we think is a good offer. We've been talking since June but their valuation is too high."