Glentoran hope to bring former NI star Stuart Elliott back to Oval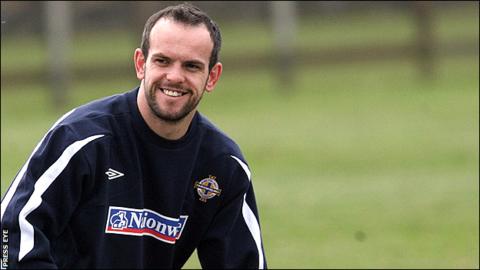 Glentoran boss Eddie Patterson has admitted he is not sure if the cash-strapped Belfast club can afford to lure Stuart Elliott back to the Oval.
Former Northern Ireland winger Elliott has returned to Northern Ireland and could resume his playing career at the club where he first made his name.
The 34-year-old played for Motherwell and Hull City after leaving Belfast.
Glens fans are hoping Darren Boyce's departure to Coleraine will free up enough cash for the deal to go through.
Elliott, who has played 38 times for Northern Ireland, left Hamilton Academical in 2010 to go into the Christian ministry.
He had come through the youth system at Glentoran and made an impact as a pacey, skilful attacker, known for scoring spectatcular goals and his cartwheel celebrations.
Glentoran manager Patterson said the east Belfast club, known to be heavily in debt, hoped Elliott's return could be secured.
But he was still waiting to discover if sufficient funds would be made available.
"Darren Boyce has gone which has released some funds, and if those allow Stuart to come to the club, then so be it," said the Oval boss.
"However, we have not ascertained how much of that money will be made available. We will just have to wait to see what develops."