Caretaker boss Peter Shirtliff 'has backing of Bury board'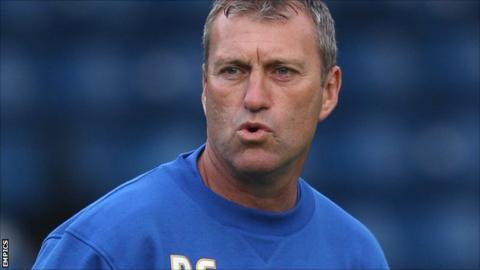 Director Mark Catlin says Bury have received a "high calibre" of applications for the vacant managerial post at Gigg Lane.
But he insists Peter Shirtliff, who took temporary charge following has the full support of the board.
"Peter is in charge at the minute and we'll give him our full backing," Catlin told BBC Radio Manchester.
"He's really stepped up to the plate since Richie left."
Catlin added: "He deserves our full support and the support of the fans."
After a Capital One Cup defeat to Middlesbrough, Bury began the League One season with a 0-0 draw at home to Brentford.
Shirtliff, who served as Barker's assistant last season, has already said on a permanent basis.
And Catlin says the former Mansfield boss will be given a chance to prove himself before a decision on Barker's successor is made.
He continued: "Initially, we've said to Peter that there's four or five games to see what he can do, but that's not time-definitive.
"Even if the results are not great but there have been some good performances, we'll maybe extend it by another three or four games.
"Likewise, if it's clear after five games that things aren't working out, we'll look to start interviewing and possibly making another appointment.
"We've had some really good applications, probably of a higher calibre than what we had last time when Alan Knill left."