Rangers: Relief rather than dream come true for Kevin Kyle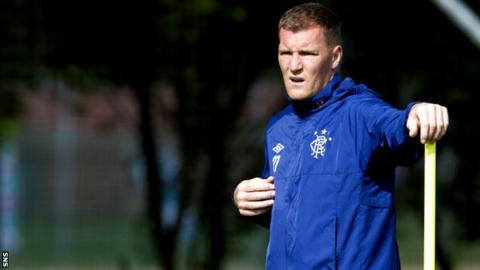 Joining one of the Old Firm is usually seen as a dream come true for most Scottish footballers, but new Rangers signing Kevin Kyle is just glad to be playing for anyone.
After spending the last 18 months out of the game with a hip injury, the former Hearts and Kilmarnock front man has expressed relief at being able to ply his trade again.
"The biggest thing for me was working again, providing for my family," said the 31-year-old who had trials with Dunfermline Athletic and St Johnstone during the summer. "It was hard not knowing what to do next."
Kyle's hip problems hampered his progress at his first senior club, Sunderland, and it has caused him further trouble in a career that has since taken him to Coventry City, Wolves, Hartlepool United, Kilmarnock and Hearts.
While at Tynecastle, he aggravated the previous injury and his lengthy absence from the game led to fears he would never be able to return to football.
"When you are not getting a wage, it's very hard and, being a footballer since leaving school at 17, I'm not blessed with qualifications to do anything else," Kyle admitted.
"I couldn't just leave football and go and do something else.
"I didn't know where I was going, but I believed in myself, the physio I was working with believed in me and here I am with an opportunity at Rangers and I'm really grateful for that.
"I felt retired 18 months ago and it was hard, but now I am back and I have this great opportunity.
"As long as I'm fit and healthy, there will always be an opportunity for me to play football. It's just a big weight off my shoulders."
However, the enforced absence has led to Kyle taking a different perspective on signing for Rangers.
"To be honest, growing up I was a football fan and to me it's just a job," said the striker, capped 10 times for Scotland.
"That's always the way I will look at football, regardless of whether I'm playing for Rangers, Hearts or wherever. That's just the way I'm tuned in.
"They expect me to give 100 per cent and that's the way I'll always look at football.
"It's the same with my friends and my brothers when they do their jobs - they've got to do their best and do the job right.
"That's no different here. At the end of the day, I just tell people it's my job.
"I've got a neighbour shouting over the back garden while I'm cutting the grass and he's asking 'how are you enjoying it at Rangers?' and I just say 'it's just another job pal'."
Despite now plying his trade in the Third Division, Kyle has found himself re-invigorated by what he feels is a second chance in the sport.
"Every day, I'm excited to come into training and I haven't had that for a while," he said.
"I'm grateful to be here and I appreciated the size of the club and the fans - they expect me to do a job and so does the manager."
Kyle has also found himself dazzled by the atmosphere at Rangers' matches so far this season.
"It is bizarre in terms of the magnitude of the fans that turn out each week, but it's the league we are in," he said.
"Some weeks, we will have 5,000 up at Peterhead and then 3,000 somewhere else.
"We then come to Ibrox on a Saturday and, to get 50,000 spectators there, was pretty amazing.
"It didn't really surprise me, because that is normally what you expect from Rangers fans.
"They turn up regardless of what league the team is in, they love their team and that's the way it's always going to be."