Martin Skrtel signs new long-term contract with Liverpool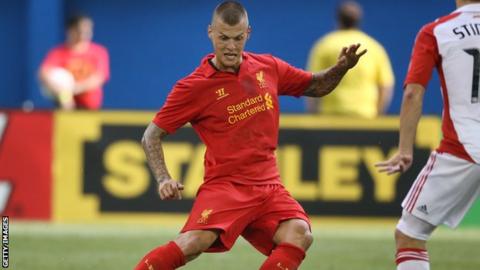 Martin Skrtel has targeted a top-four Premier League finish with Liverpool after signing a new long-term contract.
Slovakia central defender Skrtel, 27, had been linked with moves to Manchester City and Fiorentina this summer.
"After last season, there was a lot of talk about my future, but the first priority for me was always to sign a new deal with Liverpool," Skrtel said.
"We have our target. For this season, it is top four and I hope we do it."
Skrtel moved to Liverpool in a £6m deal from Zenit St Petersburg in 2008, and signed a contract extension in 2010.
The defender, who started in Liverpool's opening-day 3-0 defeat at West Brom on Saturday, is now hopeful of a bright future with new manager Brendan Rodgers in charge at Anfield.
"I have been here almost four-and-a-half years and I have enjoyed that time here - myself and also my family - so there were no questions about whether to stay or to leave," he said.
"A lot of things have changed. A new manager has come and I think we can start to make history and I want to be a part of that history."