Sir Alex Ferguson rues lack of service to Robin van Persie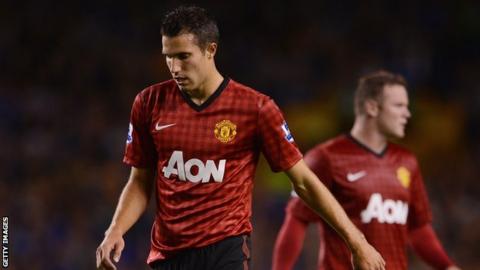 Manchester United manager Sir Alex Ferguson said his team failed to get the best out of new signing Robin van Persie as they lost 1-0 at Everton.
Marouane Fellaini headed Everton's second-half winner to beat a United side without four injured defenders.
Van Persie, who signed from Arsenal for £24m, came on as a substitute, but did not get a shot on target.
"We played around him too much. We didn't show enough penetration," said Ferguson.
"With Robin in your team, you know you want to use his ability against centre-backs in situations he is very good at, but we didn't use him enough."
Ferguson paired Wayne Rooney up front with Danny Welbeck, introducing Dutchman Van Persie on 68 minutes for his debut.
But United failed to break down a resolute Everton side and ended up losing their opening fixture for the first time since 2004.
Midfielder Michael Carrick was used as an emergency centre-back for the visitors, while Antonio Valencia was deployed at right-back.
Ferguson admitted his side failed to cope with Toffees forward Fellaini, adding: "Fellaini is a handful. He is a big, tall, gangly lad and they just lumped the ball forward to him. That's all they did. They worked from that base all the time and they got a goal from him, so it's justified."
Ferguson was missing the injured Rio Ferdinand, Chris Smalling, Phil Jones and Jonny Evans, but had no criticism of Carrick's performance alongside Nemanja Vidic in central defence.
"Centre-back is a problem but we coped quite well, I don't think you can criticise their performance in that respect," he said.
"It was just difficult to handle him when they were knocking these balls up to him. Michael did fine, good on the ball and applied himself well. They all applied themselves well."
Goalkeeper David de Gea was in excellent form in the first half and denied the home side a host of chances to take the lead.
"We were the better football team, they had eight shots on target and De Gea did very well for us in that way," Ferguson said.
"But we had the possession and made some great openings without actually finishing it. That was the only difference. On another day, we would have won the match."