Off The Bawl - 18 August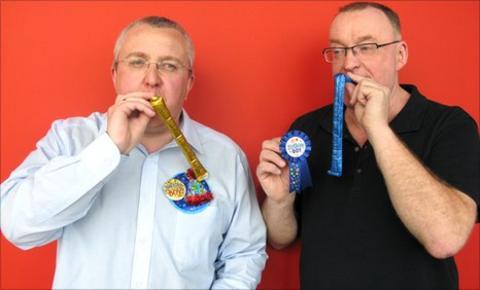 Greeeeeetings!!! Our guests on Saturday's show were Gerry Gallagher (a former lower league footballer who is now a best-selling crime writer after retiring from the CID) and the veteran pop music writer and presenter Billy Sloan.
On the back of the Scotland game at Easter Road, the listeners had their say on Boos-Gate. Ahead of the first Tayside derby in seven years, we asked what Dundee means to you. And as a wee tribute to one of our guests, we wanted to hear about your own brushes with the law.
We also paid tribute to The Dandy by having The Comics XI as our Team of the Week.
And, as a wee added bonus, we've even included a couple of highlights from this week's edition of the Off The Ball Sunday Supplement.
So, here's another selction of the most petty and ill-informed texts and emails on radio...
BOOS-GATE
Derek from Dundee said: "There is absolutely no reason for any player to be booed by his own fans. A total disgrace."
Andy McGrath from West Kilbride said: "If Black was booed because he played for Hearts, why did they not boo Christophe Berra or even Andy Webster (who still plays for Hearts)?"
Raymie said: "I pay my money at the turnstile, so I'll boo all day if I want to."
WHAT DOES DUNDEE MEAN TO YOU?
Tam in Edinburgh said: "My mate calls a carrier bag a Dundee suitcase."
Ross in Aberdeen said: "Dundee is the only place in the UK where you can pay for sex with a bag of chips."
Norrie said: "What does Dundee mean to me? Rain. I also sailed on a school cruise from Dundee on the SS Uganda, which later became a hospital ship in the Falklands."
Anon said: "Dundee means Braithewaite's coffee shop on Castle Street and the girl I should have got off with at uni..." Awww.
Craigie King the Dundee Arab said: "What does Dundee mean to me? In a word - ADMINISTRATION."
BRUSHES WITH THE POLIS
Colin Sked said: "An old Hearts fan pal of mine, John Kerr, was on police duty outside Easter Road prior to a derby. When he stopped a car that was driving into the spaces reserved for players and corporate guests, the window was lowered and a voice said: 'It's okay, officer, my name's Joe Tortolano and I'm a player.' My pal leaned in the window and said: 'Well, Mr Tortolano, there are fans here today in both colours who might dispute that.' Joe's face was apparently a picture."
Peter the bluenose from EK said: "One of my mates was driving too fast over Fenwick Moor on a grey morning when he was stopped by the police, who asked: 'What would happen if you met mist or fog?' My pal replied: 'I would have said good morning, Mr Fog.' Needless to say, he got a ticket."
TEAM OF THE WEEK
THE COMICS XI
1/ Hotshot Hamish McAlpine
2/ Marvel Andrews
3/ Eagle Ostenstad
4/ Desperate Dan Prodan
5/ Shaun Dennis The Menace
6/ Victor Wanyama
7/ Sammy McIlroy of the Rovers
8/ Beano Gattuso
9/ Kevin Twinkle
10/ Dandy Walker
11/ Jinty Johnstone
AND FINALLY...
The music that played us out?
Well, on the 35th anniversary of Elvis Presley's death, we asked the listeners for an Elvis song that could be dedicated to someone in Scottish football.
For example:
Way Down - The Rangers
Just Want To Be Your Teddy Bear - Charles Green
Return To Sender - Pat Fenlon
Here's the pick of the bunch...
Boo Suede Shoes - Ian Black (Sean in Airdrie)
In The Ghetto - Greenock Morton (Gerry from Paisley)
In The Gateaux - Mark Yardley (Iain the Paisley Jambo)
The Devil In Disguise - Craig Whyte (Billy in Glasgow)
However, as suggested by Mike in Invergowrie, we finished with a song for Ally "Who are these people?" McCoist... Suspicious Minds.
PS On the Sunday Supplement, we asked listeners how they'd spend a £148m Lottery win.
Tom in Paisley said: "If I had £148m, I think I would put together a team capable of winning the Scottish Third Division."
And Graeme from Johnstone said: "If I won £148m, I'd put 20 quid towards it and pay off the Ibrox tax bill."
To join in the fun on this Saturday's show, call 0500 929500, text 80295 or email offtheball@bbc.co.uk
Listen to the most recent Off the Ball programmes.
Download the latest Off the Ball podcast.