MK Dons manager Karl Robinson praises Gary MacKenzie maturity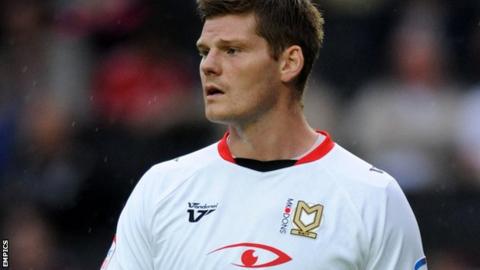 MK Dons boss Karl Robinson has hailed the new maturity being shown by defender Gary MacKenzie.
The 26-year-old Scot has twice been sent off for headbutting opponents while playing for the League One club.
But Robinson told the club's website: "I think he is a tremendous player with great ability to go and play at a higher level.
"I will back him against anybody; I think he is one of the best centre-halves outside the top flight."
MacKenzie issued a public apology after he was sent off against Charlton in February, just five months after receiving his marching orders during a game against Huddersfield for a similar headbutting incident.
On both occasions, he was criticised by Robinson, who said he must learn to curb his anger.
New signing Antony Kay was shown a red card for violent conduct last Saturday during the team's 2-0 win at Oldham.
"We don't condone what Antony Kay did, he was very apologetic to us all because he knows he was in the wrong," said Robinson.
However, he was full of praise for MacKenzie's performance and even rang the former Rangers and Dundee player the following day to praise him for his restraint.
"I know Gary has his critics, he has to come up against players who are trying to get him sent off and in the past it has worked, he has retaliated.
"I phoned him on Sunday to have a chat with him and tell him I thought he showed tremendous maturity, he didn't respond in the wrong way, he carried on and played his normal game."
He added: "I think it's important people recognise performances like Saturday and applaud him for it rather than pulling him down when he has a bad day."