Blackburn Rovers: Steve Kean unafraid of Ewood Park return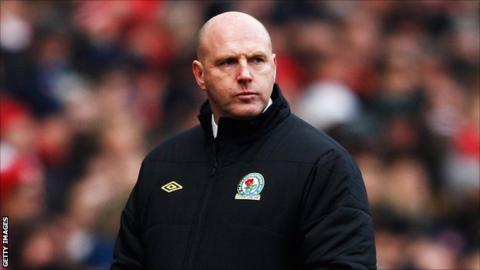 Manager Steve Kean says he is not worried about the reception he may receive from Blackburn supporters when they host Hull City on Wednesday.
Rovers have not played a competitive home game since being relegated in May.
But Kean told BBC Radio Lancashire he is focusing on making sure his side pick up their first win of 2012-13.
"I'm going to be confident because I think we've got a great opportunity to start the season on a real high note with a positive result," Kean said.
His 20-month reign at Ewood Park has been dogged by constant supporter protests, with a large number of fans calling for the Scot to be removed from his position.
The ill feeling was possibly at its most evident on 7 May, when Rovers lost 1-0 at home to Wigan Athletic, ending the club's 11-year stay in the Premier League.
But while some supporters have pledged to stay away from matches, others are more positive of Blackburn's chances following the additions of experienced players such as Danny Murphy and Nuno Gomes.
"What we've got to do now is focus on this season," Kean said. "Any supporters that I've spoken to, and there have been many, they're enjoying the standard and the calibre of the players that we've bought in.
"But ultimately it's about winning games.
"The fans, like everybody concerned with the club, want to win. Once we start winning and seeing the quality come out of the squad, I think the fans will be happy.
"Supporters go to support the team and they want to support us all the way back to the Premier League."
Blackburn started the Championship campaign with a on Saturday and were the only one of the three relegated teams to avoid defeat during the opening weekend of the season.