Kevin Mirallas turned down Arsenal for Everton move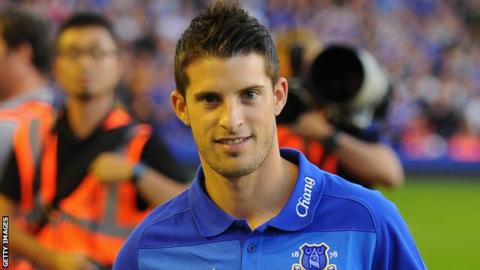 Kevin Mirallas says he turned down Arsenal to sign for Everton in a £6m move from Greek side Olympiakos.
Belgium striker Mirallas, 24, is likely to make his Toffees debut this weekend, after signing too late to feature in Monday's 1-0 win over Manchester United at Goodison Park.
"Discussions were at quite an advanced stage with Arsenal," said Mirallas.
"[But] I think I had a possibility of playing in more games, for longer periods, with Everton."
Arsenal have signed strikers Lukas Podolski and Olivier Giroud this summer, but also saw Robin van Persie leave for Manchester United.
And Mirallas believes he has made the right decision by joining David Moyes's side.
"It was always clear that it was going to be totally down to me to make the decision [about who to join]," he said.
"What's important for me at this stage in my Premiership career, just about to embark in a new league, is to get plenty of time on the field."
Mirallas, who has scored seven times for Belgium, helped Olympiakos to the Greek league championship last season - their 39th title in their history.
He was introduced to Everton fans before Monday's victory over United, when his compatriot Marouane Fellaini scored the winner, and he hopes to make his debut at Aston Villa on Saturday.
"It was important to get a big game and a big result under our belt," said Mirallas, who admits the presence of fellow Belgian Fellaini in the Everton team was also an influencing factor in him moving to Goodison Park.
"We now need to build on that. Hopefully I will be able to take part in Saturday's game."