Head coach Neale Cooper hammers Hartlepool players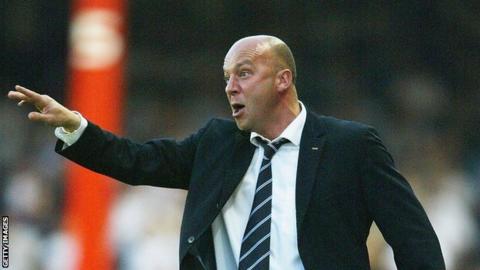 Hartlepool head coach Neale Cooper laid into his team after a sorry performance saw them go down to a 2-0 defeat at Notts County on Tuesday evening.
The furious Scot told BBC Tees that players who could not deal with the pressure could "get lost".
"There are too many boys that when it matters, hide," said Cooper.
"I've had a go at a right few tonight - if some come in [to training] because of that and don't want to be here, I'll get some players who do," he warned.
Cooper was angered by the the team's poor display at Meadow Lane coming just two days after an excellent performance in holding Swindon Town to a goalless draw.
"All was positive after Saturday, but after really good defending at the weekend we gift goals way - we're a Jekyll and Hyde team and it is a concern," said Cooper.
"I don't know what I'm going to get from them. I can't trust this team.
"I praised [striker] James Poole for his performance [against Swindon] but tonight, [he was] just jogging about. I need better than that."