Coleraine's Damien McNulty to have MRI scan on neck injury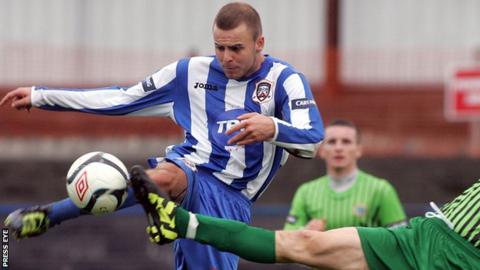 Coleraine's Damien McNulty is in hospital awaiting an MRI scan on a neck injury suffered in Tuesday night's 1-0 North West Cup win over Limavady.
McNulty collided with his own keeper Gavin Cullen and was taken to the nearby Causeway Hospital where he had an X-Ray.
"He was unconscious for a short time which was worrying," said Coleraine manager Oran Kearney.
"He will have an MRI scan to check there is no serious damage."
Kearney added:"It's cast a bit of a shadow over the game to be honest.
"Gavin just came out for the ball and he's come through Damien as he's done that. Damien was unconscious for a short period of time and with that just comes the precaution.
"After that it was just a matter of waiting until it was safe to get him on the ambulance and away to hospital."
David Scullion scored the only goal of the game as Coleraine progressed to the semi-finals of the competition.