Paul Caddis row is out of control - Swindon chairman Jeremy Wray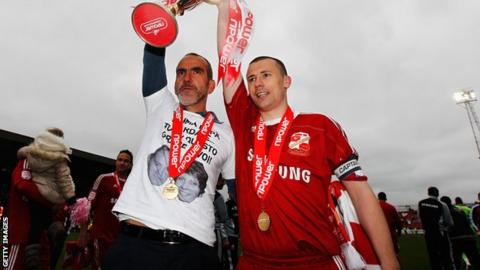 Swindon Town chairman Jeremy Wray has admitted the row between manager Paolo Di Canio and defender Paul Caddis has got "out of control".
Caddis, 24, has not played for the League One club since being dropped as captain earlier this month, following a disagreement with the Italian.
"There's a chance this one has got out of control," he told BBC Wiltshire.
"But we have to be pretty firm on this; when you have a squad of 24 players you can only have one manager."
He continued: "It's like going in to battle - you only have one general. That's the guy you have to support 100%.
"I feel sad that this has blown up out of something relatively small but people have to realise that the manager calls the shots."
Scotsman Caddis skippered the Robins to the League Two title in Di Canio's first season in charge.
But their relationship broke down during pre-season, which Di Canio put down to Caddis's "change in attitude".
He stripped him of the armband, which was immediately handed to fellow defender Alan McCormack, and subsequently left him out of the squad for the Capital One Cup game with Brighton, as well as League One clashes with Hartlepool and Crawley.
Wray says he is willing to stand by Di Canio's decision and believes he is taking an appropriate course of action against the player.
"It's strong and tough, but it's fair," he said.
"Last year we had a few potential headaches and this time last year we had the situation with Leon Clarke.
"During the drinking episode last season he was prepared to sacrifice a result in order to get a deeper message across. One or two of the players came out stronger for it.
"You need strong management to deal with it.
If you end up with too many fractions in groups and people muttering behind the manager's back, then you quickly have problems.
"Paolo is focused on what's best for the club," he added.