Bournemouth striker Steve Fletcher realistic about future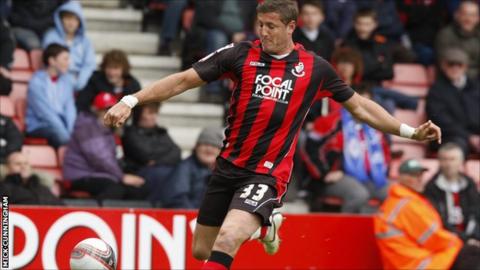 Bournemouth veteran striker Steve Fletcher has admitted he is slipping down the pecking order at the club but still believes he has a part to play.
The 40-year-old has seen the arrival of another striker at the Goldsands Stadium this week in Lee Barnard, after a summer of signing new forwards.
Fletcher came on at half time on Tuesday as the Cherries surrendered the lead against 10 man MK Dons.
But he told BBC Radio Solent: "I know I am going down the pecking order."
And the striker, who has made played 713 times for the Cherries, says he knows his place and is happy with where he fits into Paul Groves' plans.
"I've spoken to the gaffer on numerous occasions about it," he added.
"I know my position, I know when the gaffer wants me, the type of teams we play against and the right time to put me on."
As well as loan signing Barnard, Frank Demouge, Josh McQuoid and Lewis Grabban arrived at the club in the summer.
They join the likes of Matt Tubbs, Wes Thomas and Charlie Sherringham in Bournemouth's striking department.
Some supporters questioned Groves' decision to introduce Fletcher so early into Tuesday's game, but the veteran striker feels his substitution was justified.
"With the amount of ball we were putting into the box in the first half he (Groves) obviously thought it was the right time to get me on and try and finish them off," said Fletcher.
"I'll take my opportunity when I get to come on, it's fantastic every time I get on the pitch. It's getting harder, not because I'm getting older but because the players are getting better.
"That's the difficulty, it's not to do with my age, it's because of the standard of players around me. If I get on fantastic, if I don't then I am just happy to be part of the 18."