Karl Robinson defends MK Dons discipline after recent reds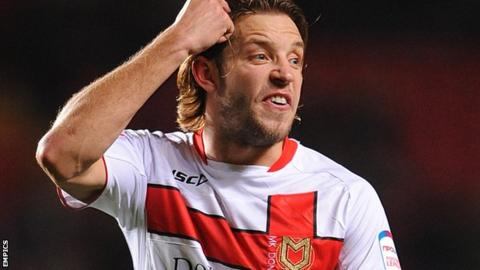 Milton Keynes Dons boss Karl Robinson has defended his side's disciplinary record despite having three players sent off already this season.
Stephen Gleeson, Antony Kay and Alan Smith have all received red cards.
However, Robinson insisted that Gleeson and Smith were both unlucky.
"When there's been tackles against you over the last three games that were worse than the ones you've been penalised for, it's hard for our players to accept it," he said.
Following Smith's dismissal for two yellow cards against Bournemouth on Tuesday evening, Robinson told BBC Three Counties Radio: "At first I thought it was a sending off - (but) I've been fortunate to look at it again and it's not a sending off.
"He goes to ground, he misses the ball by centimetres, there was no great malice in the way he went into it and I think the ref got kidded because two minutes earlier, he committed a foul - I think it was an accumulation of the two.
"I saw four or five tackles against us last week that were worse than that and weren't even penalised."
Skipper Dean Lewington agreed, saying: "It seems as soon as you raise your studs and you play for MK Dons, you get sent off but if you're anyone else, it's completely fine."
Robinson, whose side received eight red cards last season, said he could not defend former Huddersfield defender Kay's dismissal for violent conduct against Oldham last Saturday.
"He shouldn't react like he did and I do not condone that.
"There's a number of scenarios that I can't protect my players over and I won't protect them, but Smithy and Stephen Gleeson against Cheltenham, I've got to because they're not sendings off.
"People will point fingers and I understand that but you've got to look at why they're being sent off.
"None of them have been for verbals, there have been no bookings this season yet for anybody verbally having a go at the opposition, so that's an improvement, it's the referee and linesmen's judgment against our challenges."