Walsall keeper David Grof warned by manager to cut out errors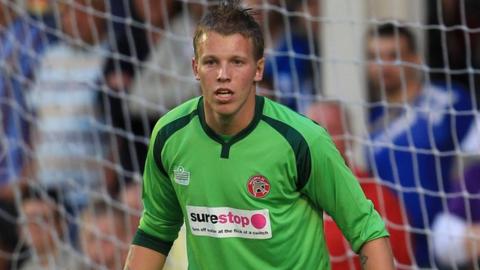 Walsall keeper David Grof has been handed a warning by Saddlers manager Dean Smith that his place could be at risk if he keeps making errors.
Long-serving Saddlers favourite Jimmy Walker, just 12 matches away from breaking the club's league appearance record, is waiting in the wings.
And Smith told BBC WM: "Groffy knows he needs to cut out mistakes or he'll have Jimmy breathing his neck.
"It's dog eat dog. They all want a place and Jimmy's as hungry as ever."
Walker's total tally of 534 appearances for the club means that he has already played more competitive matches than anyone in the Saddlers' history.
But, even at 39, and holding down a new part-time job as the club's goalkeeping coach, Walker, who shared first-team duties with Grof last season, is still hoping for more.
"He's got the overall appearance record," added Smith. "And he needs another 12 games to break the Football League record."
Although admitting that 23-year-old Hungarian Grof might have done better, Smith described two of the four goals he has so far let in this season, in Saturday's 3-0 home defeat by Doncaster and Tuesday night's 1-1 draw at Oldham, as "freakish".
But he also admits that his young Walsall side responded better to adversity at Boundary Park on Tuesday night than they did three days earlier at Bescot.
"Mistakes will happen," he said. "It's how you react that matters and we're learning all the time.
"Saturday was viewed a disaster in some quarters. But, having gone back and watched a DVD of the game, it was far from it. Doncaster was just one of those games when it just wasn't to be.
"And the way the players responded at Oldham was fantastic."
Smith was pleased that youngsters Aaron Williams and George Bowerman, who notched the Saddlers' equaliser at Oldham, did so well as second-half substitutes.
"The two of them came on and did particularly well," added the Walsall boss. "I never expected anything else from George Bowerman, when he got that chance, than to hit the back of the net."