Balram Chainrai submits new Portsmouth offer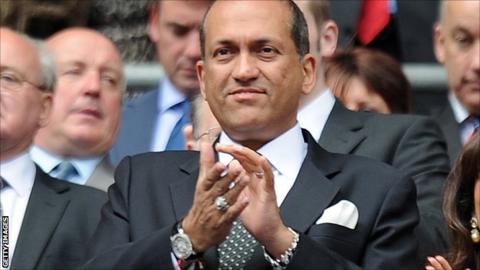 Former Portsmouth owner Balram Chainrai has submitted a new offer to buy the League One club.
Chainrai withdrew an offer last week, leaving the Pompey Supporters' Trust (PST) as the only option to save the stricken club from liquidation.
He has now come back in, but the PST will still present its bid to administrator Trevor Birch on Friday.
Birch, who confirmed Chainrai's renewed interest, will then make a decision based on "the best deal for creditors".
Birch explained that the offer from Portpin, Chainrai's company, was now being reviewed.
In a statement issued on Thursday, Birch, from administrators PKF, added: "We have been working with the Trust since Portpin's original offer was withdrawn and understand that the Trust is on track to submit a business plan and revised offer tomorrow.
"We will assess its bid once it has been submitted and will then determine which offer provides the best deal for creditors, as is our duty as court appointed administrators."
Chainrai withdrew his original offer for the club after being criticised by manager Michael Appleton over changes to the transfer budget.
The Hong Kong businessman is also unpopular with supporters, who have long protested against his involvement with the club.
Both Chainrai, who is owed £17m by the club and holds the club's Fratton Park ground as security, and the PST have had a Company Voluntary Arrangement agreed by creditors which would pay them two pence for every pound they are owed.
Significantly, however, the PST has set aside only £2m for players owed money by the club, while Birch is understood to have struck compromise agreements with Pompey's senior players totalling about £8m.
Despite that, the PST says it remains hopeful it can take over the financially troubled outfit, which has been in administration since February.
"The PST bid remains on track," spokesman Colin Farmery insisted.
"Trevor Birch, the administrator, has described our bid as 'credible' and there is nothing to suggest that anything has happened to change his view.
"Our bid has been on the table for months and we have been consistent and unstinting in our efforts to buy Pompey and give the club a fresh start."
Former Watford owner Laurence Bassini has also registered his interest in Portsmouth.
However, the advanced nature of the current talks with Chainrai and the PST, as well as the urgency with which a deal needs to be completed, mean Bassini is not a serious option at this stage.