Dave Beasant handed Bristol Rovers coaching role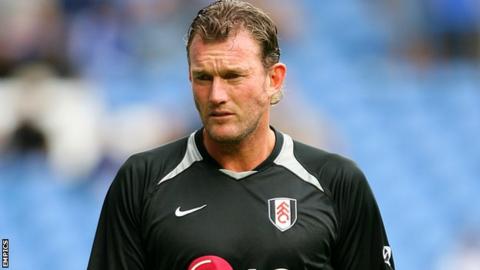 Former Wimbledon, Chelsea and Nottingham Forest goalkeeper Dave Beasant has joined the coaching staff at League Two Bristol Rovers.
The 53-year-old, who made 890 career appearances for 13 different clubs, will work at the Memorial Stadium in a part-time capacity.
"Dave will come in the day before games - certainly on a Friday," manager Mark McGhee told BBC Radio Bristol.
"We are delighted to have him and it's just about the right balance for us."
Beasant has previously worked as a coach at Premier League side Fulham as well as Northern Ireland, and most recently at the Glenn Hoddle Academy
Rovers have been without a goalkeeping coach since Carl Emberson left to join former Pirates boss Paul Buckle at Luton Town.
McGhee has also moved to bring in Bernd Dreher, a coach from Germany who has played and worked with Bundesliga sides, on a temporary basis.
"He isn't working at the moment and has come over here for two weeks to do a clinic with our goalkeepers.
"Bernd is rated as one of the top three goalkeeping coaches in Germany and comes highly rated.
"Even Dave will look at Bernd and see some new ideas. I'm not saying they are better than Dave's but they'll be new and different."