Exeter City boss Tisdale anticipates striker dilemma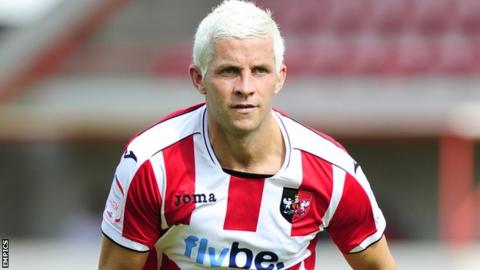 Exeter City manager Paul Tisdale says he fears he may struggle to keep all of his strikers happy after the first two games of the season.
John O'Flynn scored on the opening day while Jamie Cureton netted twice in Tuesday's 2-1 win at Aldershot.
With Guillem Bausa and Alan Gow also performing well it has given Tisdale a dilemma over who to select.
"My only concern is how to keep them all happy because all four of them are playing very well," he told BBC Sport.
"Guillem and John look a lot sharper, stronger and more determined than they did a year ago.
"They've had a full pre-season and it's the best I've seen the pair of them look, John for maybe 12 or 18 months and Guillem since he's been here.
"Then I've got Alan and Jamie that are both threatening too."
Added to that mix is new signing Elliot Chamberlain while Tisdale also has youngsters Tom Nicholls and Jamie Reid on loan at Hereford and Dorchester respectively.
"In all there's seven strikers there who are all playing and trying to achieve the same thing.
"In their own way they're doing the best possible thing they can do, I can only pick two, that's my only problem," Tisdale said.