Peterborough United fans urged by Darren Ferguson to stop booing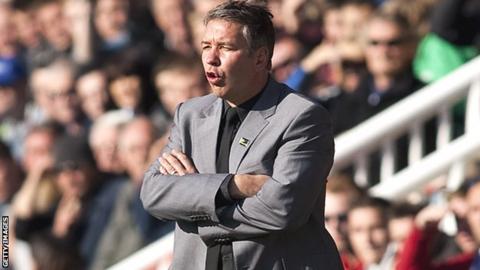 Peterborough manager Darren Ferguson has appealed to the club's supporters not to turn on the team if things do not go their way in matches.
Players were subjected to boos from the stands during Tuesday's 2-1 home defeat by Millwall in the Championship.
"I urge fans to encourage the players," he told BBC Radio Cambridgeshire.
"I tell them how to play, it's my responsibility. I'm happy to take the plaudits, so I can take the criticism. I can handle all that."
Peterborough have lost both league games after starting the season with a comfortable 4-0 win over Southend in the Capital One Cup.
However, Ferguson believes it is far too early for doom and gloom at London Road.
"In my time in football, it's never done anyone any good to boo players," the Scot added.
"The fans are totally entitled to their opinion, they pay their good money to come in, but if they want to criticise anyone they can have a go at me."
Ferguson admitted the performance against Millwall was not good enough, especially as Peterborough took the lead through George Boyd early in the game.
"It was strange - 90% (of games) last season, when we went ahead, we won, so it was a bit of a surprise," he added.
"It was like we went behind, it put us on the back foot rather than the front foot.
"We now need to move on, I'm not one for looking behind, and what better game than Saturday against Leeds with a full house. It's one I'm personally really looking forward to."