Portsmouth boss Michael Appleton will work with Chainrai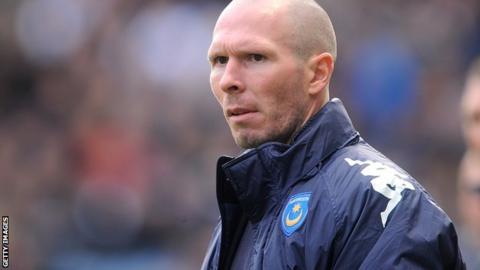 Portsmouth manager Michael Appleton says he is happy to work with former owner Balram Chainrai after he submitted a new bid for the club.
Chainrai had withdrawn his offer after Appleton last week accused him of being "unprofessional" over changes to his prospective transfer budget.
But on Thursday Chainrai said he had resubmitted his offer from Pompey.
"If their ideas are similar and in the same mould as mine then I'll be more than happy," Appleton told BBC South.
Administrator Trevor Birch will assess Chainrai's bid on Friday as well as the offer from the Pompey Supporters' Trust, which is set to present its plan.
Birch will then have a decision to make on which bid to accept, based on the best deal for creditors of the club.
Pompey have been in administration since February and are said to be £58m in debt.
Chainrai claims he is still owed around £18m and holds Fratton Park as security.
But Appleton says the situation just needs to be resolved one way or the other and wants to meet with Portpin, Chainrai's company, as soon as possible if it takes over the club.
"It will be essential that we make contact, get in a room and get a feel for how we are going to take the club forward," added Appleton, who has also received criticism from Chainrai for his prediction that Pompey would be relegated under their business plan.
"People can be critical as much as they want towards me, it's water off a duck's back. I'm more than happy to sit down with them and discuss their future plans for the football club.
"If their ideas are similar and in the same mould as what I expect then I'll be more than happy. If they're not then I'll deal with it when it happens.
"You kind of expect it, there have been so many twists and turns over the past nine months but everyone at the football club just wants to get this sorted now."