Ryan Shawcross and Ben Turner reject offer to play for Wales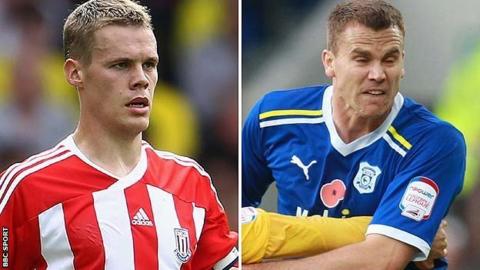 England-born Ryan Shawcross and Ben Turner have turned down the chance to switch allegiance to play for Wales.
Manager Chris Coleman had invited the Stoke City defender and Cardiff City defender to make themselves available to represent Wales.
But both have declined Coleman's offer because they consider themselves to be English and not Welsh.
"There is no further conversation there and both of those avenues have been closed off," said Coleman.
Shawcross qualifies for Wales having had five years compulsory education in the country, while Turner is eligible through his Welsh grandparents.
Coleman had targeted the pair as candidates to boost his defensive resources in Wales' bid to reach the 2014 World Cup in Brazil.
"I talked to Ryan and had a good conversation with him and his dream is to play for England," said Coleman.
"He was very honest and sadly for us he wants to pursue his England dream.
"I totally understand and respect that and we shook hands and I wished him all the best. I hope he fulfils that dream and gets his England cap."
Shawcross's invitation to the squad had proved to be a contentious issue because of his infamous tackle on Wales captain Aaron Ramsey in 2010.
Ramsey was sidelined for 10 months after the tackle, which resulted in a red card for Shawcross and caused six fractures in the midfielder's leg.
Former England Under-21 defender Shawcross apologised via a text message, but the pair have not spoken since the incident.
Coleman revealed he had consulted his captain over Shawcross's possible inclusion, but Ramsey stressed the final decision would have to be the manager's.
Shawcross, born in Chester, was raised and educated in north east Wales, and represented Welsh Schools.
The 24-year-old former Manchester United trainee stated in 2011 he had no intention of playing for Wales, preferring instead to attempt to make his way into the England squad.
Coleman, though, decided to make a fresh approach over the summer, believing Shawcross may now be more receptive to the invitation.
Cardiff defender Turner, who played under Coleman for Coventry City, had also been cool to suggestions he could play for Wales and has now joined Shawcross in declining Welsh advances.