Torquay's Aaron Downes strikes up good Brian Saah partnership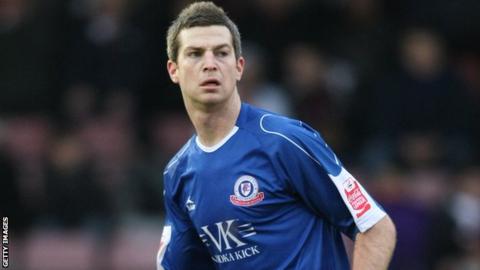 New Torquay United centre-back Aaron Downes says he is striking up a good partnership with Brian Saah at the heart of the Gulls' defence.
The 27-year-old after spending almost eight years at Chesterfield.
He replaced Mark Ellis, who moved to Crewe, and says he is getting on well with his defensive partner Saah.
"It's really good, I think we're both on the same wavelength," the Australian told BBC Sport.
"We're both really desperate to keep clean sheets and defend and stop goals.
"We're developing really well and we're both similar players, we both like to get the ball down and play, but we also understand that there is a time to just head it, kick it and clear our lines and be solid.
"We're going to be alright this year, me and Saahsy.
"We'll forge a good partnership and I'm enjoying it so far, I just hope when you ask him he says the same thing."
Downes was pleased to be signed by Torquay after being released by Chesterfield after suffering three serious knee injuries.
And he says he is thankful to manager Martin Ling for taking a chance on him.
"We've both taken a risk on me," added Downes. "I had a lot of people telling me in the summer 'yeah we like Aaron Downes as a player, but we're not sure about his knee'.
"It's frustrating for me because I know my knee's OK, every medical person I've spoken to is relatively happy with my knee.
"But it's just the climate that we're in financial-wise, it's hard for managers to take risks, and it was a risk for the manager to sign me.
"The easy decision for him was to say 'no I'm sorry, we'll go somewhere else'.
"But he took the tough decision and signed me and I'm very grateful for that and I hope I can repay him with some good performances on the pitch."