Filipe Morias 'hungry' to help Stevenage win promotion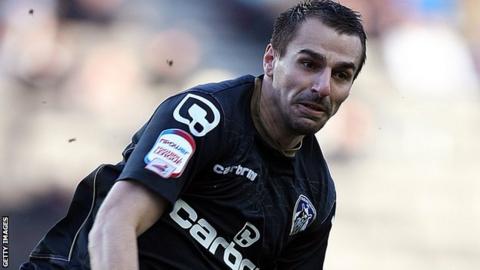 Stevenage will settle for nothing less than promotion this season, according to winger Filipe Morais.
The club came close last term, losing 1-0 on aggregate to Sheffield United in the play-off semi-finals.
"Everyone wants to get promoted here, all the players are hungry for it," he told BBC Three Counties Radio.
"We all believe it, if you don't you've got a serious problem because not wanting to achieve anything means there's no point in playing."
Morais was one of manager Gary Smith's summer signings, moving south from league One rivals Oldham.
And despite their common desire to reach the Championship, he believes it could be harder than ever to make it a reality.
"We really want to push for that but this is a very tough league, everyone can beast everyone on their day," the 26-year-old added.
Morais said drawing their opening game at Carlisle had been a wake-up call and they responded positively by winning at Leyton Orient in midweek.
"We showed what a good squad we are, we can rotate it and keep things fresh," he said.
"I think we were all a bit shocked after the first game because we've never played so poorly.
"After the AFC Wimbledon game (in the Capital One Cup), where we were great going forward and solid at the back - free-flowing football.
"Everybody was expecting the same at Carlisle, but they are a good team, they did their homework on us and shut us out - we had to change things and managed to get a point."