Sergio Aguero's Argentina call-up frustrates Roberto Mancini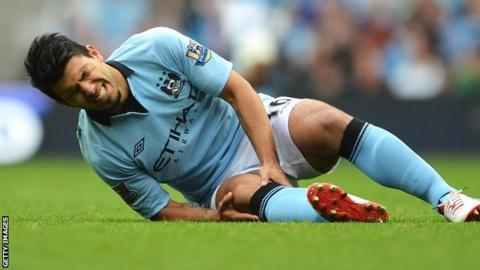 Manchester City manager Roberto Mancini says Argentina's decision to call up injured striker Sergio Aguero is "ridiculous".
The Italian has claimed the 24-year-old will not be fit until after the World Cup qualifiers against Paraguay and Peru next month.
"It is ridiculous but these are the rules and you need to respect these rules," he said.
Talks to avert a club-versus-country row are expected in the next 24 hours.
"Sergio needs a minimum two weeks without training and then maybe after two weeks he can start again," Mancini said.
Argentina manager Alejandro Sabella may insist on his medical team checking Aguero over after he sustained a knee injury in City's opening Premier League match against Southampton on Sunday.
However, Mancini admitted a long trip to South America to assess the injury would be pointless.
"He could go and after he can fly back quickly," Mancini added.
"They are ridiculous rules but it depends now. We will see what happens with Sergio in the next 10 days and then we will take a decision.
"Today it is impossible. Maybe in 10 days if he has recovered, well, it is different."
City are hopeful Aguero will make his comeback in the Premier League match at Stoke City on 15 September.
Argentina want Aguero to be with their squad for the matches against Paraguay in Cordoba on 7 September and then Peru in Lima on 11 September.